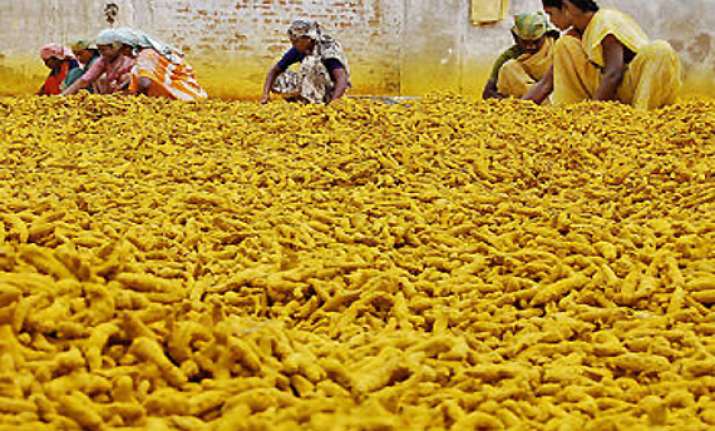 Erode, Aug 6: Price of the finger and root variety turmeric increased by Rs 2500 a quintal within a month's time in Erode, trade sources said.
After closure of five days for the Raksha Bandhan and Aadi 18th festival, the turmeric market assembled on Monday.  
Price of both varieties of turmeric increased by Rs 500 a quintal of finger variety and Rs 700 a quintal of root variety turmeric.
"Such increase is due to low arrival," said R.K.V.
Ravishankar,President of Erode Turmeric Merchants Association.  He said they expected arrival of more than ten thousand bags on Monday, but only 7350 bags arrived.  
Eighty per cent of the turmeric was sold. Of this 50 per cent was procured by exporters for their orders.  
At the Erode Turmeric Merchants Association sales yard, the finger variety was sold at Rs 3836 to Rs 6845 a quintal, root variety Rs 3232 to Rs 6265 a quintal.  
Salem crop: The finger variety fetched Rs 6455 to Rs 7585 a quintal; Root variety Rs 6265 to Rs 6899 a quintal.  
The finger variety was sold at Rs 6566 to Rs 7099 a quintal and root variety Rs 6143 to Rs 6696 a quintal at the Regulated Marketing Committee.
At the Erode Cooperative marketing Society, the finger variety was sold at Rs 5960 to Rs 6877 a quintal and root variety Rs 5389 to Rs 6799 a quintal.  
At the Gobichettipalayam Agricultural Cooperative Marketing Society, finger variety was sold at Rs 5011 to Rs 7000 and root variety at Rs 4911 to Rs 6379 a quintal.