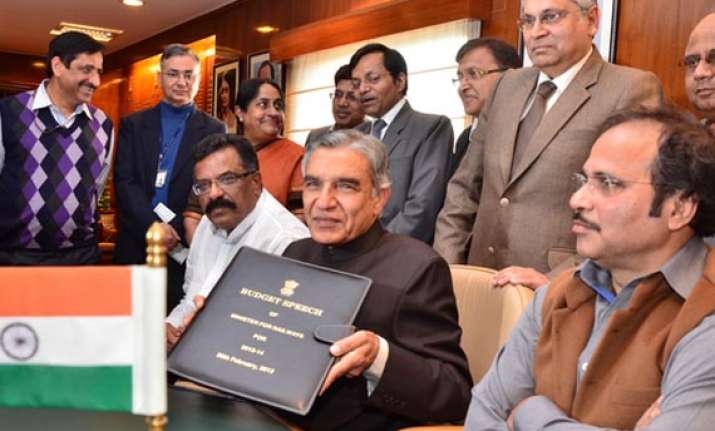 New Delhi, Feb 26: Today, the Railway minister Pawan Bansal will present his maiden budget that is almost certain to be guarded in its populism with a touch of pragmatism and fiscal prudence.
From the common man's perspective it remains to be seen whether he bites the bullet on another fare hike, or leaves it for another day.
Moreover, the Railway Budget will also be seen as a precursor to the general budget to be presented on Thursday with political observers and economy watchers looking for reform signals. Here is what we expect from Mr Bansal:  
1. It will be for the first time since the UPA coalition came to power nine years ago, it will be a Congressman who will present the Rail Budget. It marks a sharp departure from his predecessors like Mamata Banerjee and Lalu Prasad who rode high on "populist" agendas.
2. Mr Bansal, who took over as Rail Minister in October last year, had already hiked passenger fares by 21 per cent last month, the first hike in 10 years, aiming for additional revenue of Rs. 6,600 crore.
3. There will be some attention on whether he goes for another fare hike or not?
4. The Railways have a well cut out job of raising revenue for keeping the mammoth organisation afloat in 2013-14.
5. Bansal is expected to announce three projects to electrify the routes connecting Delhi with Ahmedabad and Jaipur. The three projects covering 1087-km of rail track will cost R1,121 crore. To get the funds for the electrification projects, the cash-strapped railways, which is planning to raise Rs.18,000 crore of its annual plan outlay for the next financial year through market borrowings, is expected to ask IRFC to finance the project.
6. The northern states, mainly Punjab, Rajasthan and Haryana, and northern Bengal are likely to be major beneficiaries when it comes to announcement of new trains, new lines, setting up of production units and inclusion of stations for upgrades under the Adarsh station scheme.
7. Bansal is likely to announce passenger-friendly measures like an improvement in catering services, development of stations and the launch of about 100 new trains.
8. It remains to be seen whether the Minister will set up an independent tariff regulator.
9. In his budget speech, the minister is likely to talk about steps been taken to ensure safety of women passengers, including 24x7 helpline, cleanliness on stations and bio-toilets in trains.
10. Bansal may announced new AC double-decker trains and semi high-speed trains running at 160-200 kmph for inter-city travel.