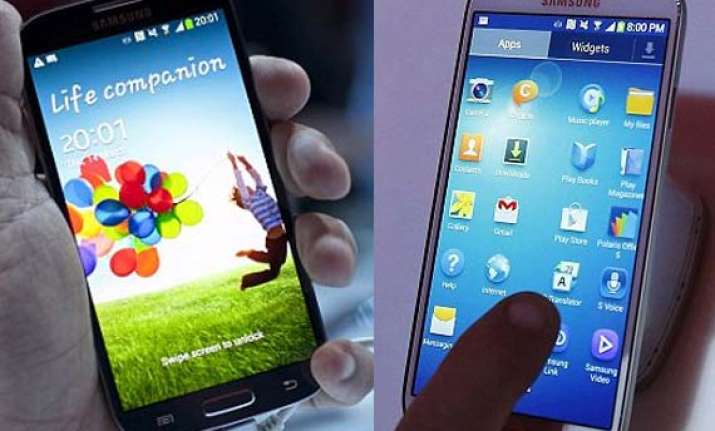 New Delhi, March 16: Samsung Galaxy S4 is finally here and this it promises to be good package of never-before-seen technology. The GALAXY S 4 has the world's first Full HD Super AMOLED display to showcase images at their very best. Its 5-inch large screen has 441ppi for stunning viewing quality.
The Galaxy S4, which crams a 5-inch 1080p screen into body slightly smaller than the S III's, will go sale globally in the April to June period. The new smartphone is 69mm wide, and 7.9mm thick. It weighs just 130 grams, and is encased in polycarbonate. The handset includes features such as voice-recognition text messaging, translator software that can recognize 9 languages and a great touchscreen technology that toggles some features just by waving your finger.
"Once you spend time with the Galaxy S 4, I'm very confident you'll find how its innovations make your life simple and fuller," said JK Shin, president of Samsung Mobile Communications, at the company's first promotional event for its flagship smartphone.
Analysts say the launch is significant for both the consumers and the company. They also say Samsung, which is already a main competitor to Apple's high-end smartphone range, including the iPhone 4S and iPhone 5, is going very aggressive with the successive generation of the Galaxy line of smartphones. The Galaxy line has been Samsung's chief weapon in the smartphone fight, and it has succeeded in making it a recognizable brand while competitors like Taiwan's HTC Corp. and Korean rival LG have stumbled. Samsung has sold 100 million Galaxy S phones since they first came out in 2010.
That's still well below the 268 million iPhones Apple has sold in the same period, but with Galaxy S4 the gap is expected to be shortened a lot. Let's take a look at top 10 "brilliant" features of the S4 which you'll not find on any other mobile.
1. Octa-core processor
The Galaxy S3 successor comes with the world's first octa processor. The S4 is powered by a 1.6 GHz Octa-Core CPU. The processor is equipped with four ARM Cortex-A15 for performance and four ARM Cortex-A7 to handle common workloads.
2. Dual-shot mode
Samsung has put a lot of focus on the cameras inside the Galaxy S 4. Equipped with a 13 megapixel rear camera, the GALAXY S 4 also boasts a 'Dual Camera' function that allows simultaneous use of both front and rear cameras. When capturing moments, users can choose from a variety of frame effects which blend the two pictures naturally and also adjust the size of the small picture inside the big one.