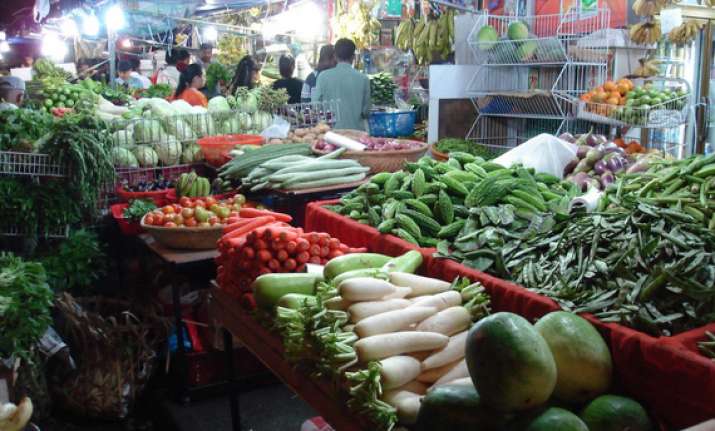 New Delhi: The Wholesale Price Index (WPI) for the month of September rose to an eight-month high of 6.46% as against 6.1% in August. This is higher than an ET Now Poll estimate of 6%.
Food inflation in September continued to rise to a whopping 18.4% versus 18.18% in August. While fuel & power inflation declined to 10.08% versus 11.34% in August, manufactured products inflation rose to 2.03% versus 1.9% in August
The WPI for July was revised higher to 5.85% versus 5.79% in the provisional estimate.
Meanwhile, industrial production rose much less than expected in August, dimming festive spirits after a series of positive data releases had raised hopes that the Indian economy was on the mend and fighting talk from the country's finance minister that he sees prospects for revival this year.
Factory output as measured by the Index of Industrial Production (IIP) rose just 0.6% in August against 2.75% in July, itself revised upward from 2.6%, the Central Statistical Organisation said in a statement on Friday. The consensus estimate was for a 2% rise in August on the back of a 13% increase in exports and a 3.7% expansion in the output of the core sector, which has a 38% weight in the IIP.
The FM and RBI Governor Raghuram Rajan are expecting a good performance by the farm sector following a bountiful monsoon despite growth hitting a four-year low of 4.4% in the first quarter. That came after the slump to a 10-year low of 5% growth in the year to March. Most private forecasts for the year are in the range of 4%, while IMF has pegged it at 4.25% (3.8% in terms of market prices) because of lacklustre industrial growth and slowing services.
"There is a clear stagnation in the economy. There is no revival in demand as yet, be it from the consumer side or the government side," said Madan Sabnavis, chief economist, CARE Ratings. Industrial production was up just 0.1% in April-August and the possibility of a further hike in interest rates by RBI to tame inflation rules out any sudden reversal of this trend.
Asia's third-largest economy has been caught in a situation which some analysts define as akin to stagflation for the past three quarters -- with economic growth stuck below 5 per cent and prices rising at a fast clip.