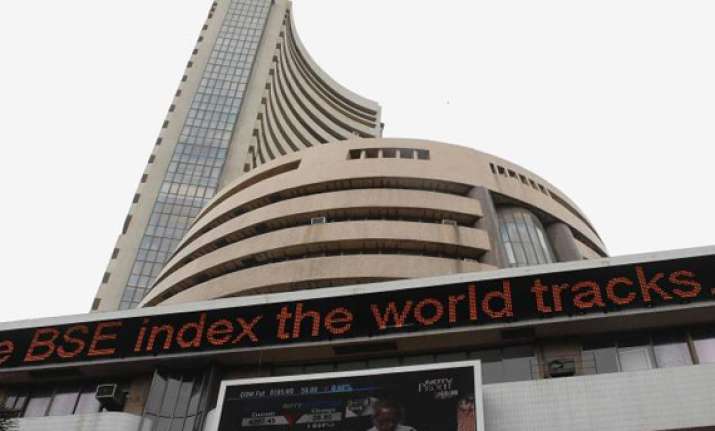 Mumbai, Apr 19: Gaining for the fourth session in a row today, the BSE Sensex rose 111 points to 17,503.71 on capital inflows as FIIs bought stocks, especially auto, amid banks cutting lending rates and firm European markets.
HDFC Bank, Tata Motors and Sun Pharma scaled new highs.
Stock markets have moved up this week, particularly in view of the Reserve Bank's cutting lending rate on Tuesday, prompting banks such as PNB and IDBI to lower interest rates. 
Other lenders are likely to follow the move making housing and corporate loans cheaper.
The BSE 30-stock index Sensex opened higher at 17,432.89 and moved between 17,530.30 and 17,361.71. It closed at 17,503.71, up 111.32 points or 0.64 per cent from yesterday.  It had gained over 300 points in the past three sessions.
The NSE 50-share Nifty gained 32.40 points or 0.61 per cent to 5,332.40.
Analysts said although Asian markets were mixed, higher openings in Europe amid easing worries about the euro-zone debt crisis, supported the uptrend.
"Markets got off to a subdued start and were choppy. As the European markets opened positive, our markets perked up too. The BSE Auto Index hit an all time high as both the four wheeler behemoths saw good buying," said Sharmila Joshi Head Equity Fairwealth Securities.
Besides Tata Motors, Maruti Suzuki, Bajaj Auto, Hero MotoCorp made gains.
In all, of the 30 Sensex stocks, 21 gained, 8 declined while DLF ended unchanged.
Fundamentally, RBI's key rate cut action is perceived to be positive for equities as the central bank's stance is now pro-growth, as opposed to focus on containing inflation through rate hikes, said Milan Bavishi, Head Research, Inventure Growth and Securities.
FIIs bought shares worth Rs 221.63 crore yesterday as per provisional data from the stock exchanges.
Major Sensex gainers were, Coal India (3.85 pc), Maruti Suzuki (2.92 pc), Hero Motoco (2.42 pc), M&M (2.01 pc), Cipla (1.51 pc), Infosys (1.31 pc), HDFC (1.21 pc), ITC (1.12 pc) and HUL (0.90 pc).
However, BHEL fell 3.66 pc, followed by Hindalco - 1.91 pc, Gail India - 1.77 pc, Wipro - 1.35 pc, Reliance - 1.01 pc and SBI - 0.80 pc.
Among the sectoral indices the BSE-Auto shot up 2.05 pc, Healthcare - 1.18 pc, FMCG - 0.96 pc, the Metal - 0.80 pc and the IT - 0.74 pc.
The total market breadth at the BSE continued to remain positive, as 1,492 stocks gained ground, while 1,364 ending with losses. The total turnover declined to Rs 2,216.38 crore from Rs 2,418.81 crore yesterday.