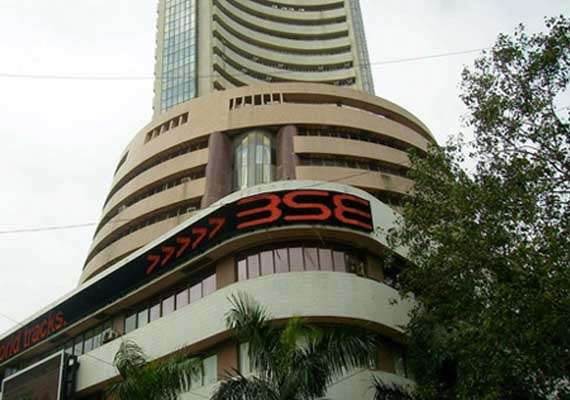 New Delhi, July 24: Snapping its five-day rally, the BSE benchmark Sensex on Wednesday fell nearly 76 points in early trade pulled down by financial sector stocks, including ICICI Bank and HDFC Bank, after the RBI announced additional liquidity tightening measures to check rupee slide.
The 30-share barometer fell by 75.94 points, or 0.37 per cent, to 20,226.19 with banking, realty and consumer durables leading the fall. The index had gained over 451 points in the past five sessions.
The wide-based National Stock Exchange index, Nifty shed 38.20 points, or 0.63 per cent to, 6,'.60.
Brokers said fresh round of selling by participants after the RBI on Tuesday night announced additional liquidity tightening measures to check rupee slide mainly dampened the trading sentiment.
RBI has reduced the liquidity adjustment facility (LAF) for each bank from 1 per cent of the total deposits to 0.5 per cent, thus limiting the access to borrowed funds from the central bank. The limit will come into force with immediate effect and continue till further notice, the RBI added.
In another measure to suck out liquidity from the system, RBI has asked banks to maintain higher average CRR (cash reserve ratio) of 99 per cent of the requirement on daily basis as against earlier 70 per cent. CRR is portion of deposits that banks are required to keep with RBI.
They said a weakening trend in the Asian region also had negative impact on the domestic equity market.
The BSE banking index suffered the most by falling 3.16 per cent to 12,424.40 points as stocks of SBI fell by 2.10 per cent to Rs 1,822, ICICI Bank by 2.97 per cent to Rs 960.40, HDFC Bank by 2.57 per cent to Rs 665.20 and Yes Bank by 4.44 per cent to Rs 419.25.
In the Asian region, Hong Kong's Hang Seng index traded lower by 0.35 per cent, while Japan's Nikkei Index shed 0.58 per cent, in early trade. The US Dow Jones Industrial Average, however ended 0.14 per cent higher in Wedenesday's trade.