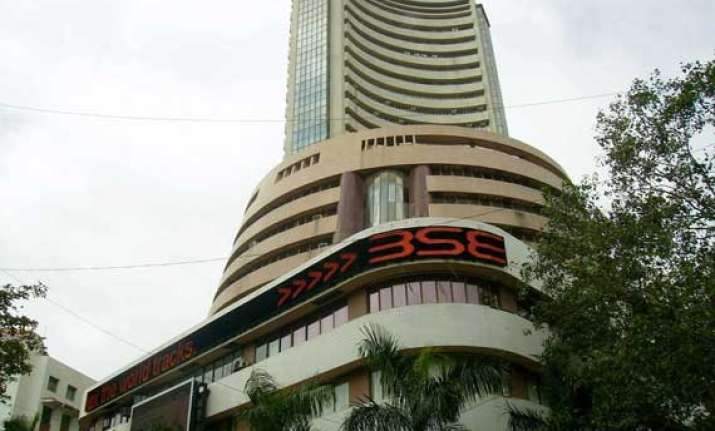 Mumbai: The market euphoria evaporated after the NDA government presented its maiden Railway and Union Budget this week as investors felt there was lack of big-bang initiatives, sending Sensex and Nifty down over 3.5 percent.
The week saw the Sensex crossing 26,000-mark and Nifty registering 7,800 during intra-day trade for the first time in the history, but there was also this post-budget slide not seen since July 2009.
Extreme caution resulted intense profit-booking as investors rued of budgets lack of far-reaching reforms and absence of subsidies and above all of concerns over GAAR (General Anti-Avoidance Rules).
Renewed Eurozone debt concerns on reports of Portugal's biggest listed bank, Banco Espirito Santo, missing debt payments also added the disappointment.
Barring FMCG and IT counters, profit-booking was witnessed in Power, Capital-Goods, Realty, PSUs, Consumer Durables, Metals, Auto and Banking sectors.
Broader markets including shares of mid-cap and small-cap companies also saw intense selling.
The Sensex opened sharply higher at 26,'.67 and surged to an all-time high of 26,190.44 but fell back to a low of 24,978.33 before ending at 25,024.35, showing a fall of 937.71 points or 3.61 percent.
The NSE 50-share Nifty also climbed to an all-time high of 7,808.85 before finishing the week at 7,459.60, showing a dip of 292.00 points or 3.77 percent.
Foreign Portfolio Investors (FPIs) bought shares worth a net Rs 2362.42 crore during the week, including provisional data of July 11.
Jignesh Chaudhary, Head Of Research, Veracity Broking Services said, "The Indian equity markets observed some corrections in the trading week, this was amongst the most important trading week as this had the debut budget for the people's government so the hopes were very much high for the common man. The budget was satisfactory for all as people knew that the government did not have much place to offer benefits to people so they could not compromise on the tax earnings."
"The markets also saluted the budget and grew but could not manage to close in the green. The Economic Calendar is active and one of the most important thing to watch for Indian and US Economy as there are many data release which are scheduled -Indian WPI is scheduled and which is expected to improve than the previous data release. PPI Data is scheduled for US which is expected to improve along with Core retail sales which is also expected to improve than the previous release this might affect the markets," he added.
Among the 30-share Sensex pack, 21 stocks declined and and nine gained during the week.
Major losers from the Sensex pack were BHEL 15.00 percent followed by SBI 10.28 percent, L&T by 9.64 percent, Coal India 8.02 percent, ICICI Bank 7.31 percent, Bajaj Auto 6.99 percent, Tata Steel 6.62 percent, RIL 6.29 percent, ONGC 6.15 percent, Axis Bank 6.12 per cent, Heromoto Corp 5.73 percent, NTPC 5.67 percent, M&M 5.35 percent, Maruti 5.21 percent, Tata Power 4.99 percent, Hindalco 3.81 percent, SSLT 3.77 percent Gail India 2.05 percent.
However, the gainers were Sun Pharma 4.64 percent, ITC 3.83 percent, Infosys 2.68 percent and HUL 2.65 percent.
Among the S&P BSE sectoral indices, BSE-Power dropped by 10.16 percent followed by Capital-Goods 9.98 percent, Realty 9.18 percent, PSU 8.97 percent, CD 8.19 percent, Metal by 7.36 percent, Bankex by 7.17 percent and OIl&Gas by 5.87 percent. Small-cap and Mid-cap indices also fell by 7.80 percent and 7.02 percent, respectively.
Total market turnover on the BSE and the NSE spurted to Rs 21,240.48 crore and Rs 1,05,761.67 crore respectively from the last weekend's level of Rs 16,906.51 crore and Rs 89,279.00 crore.