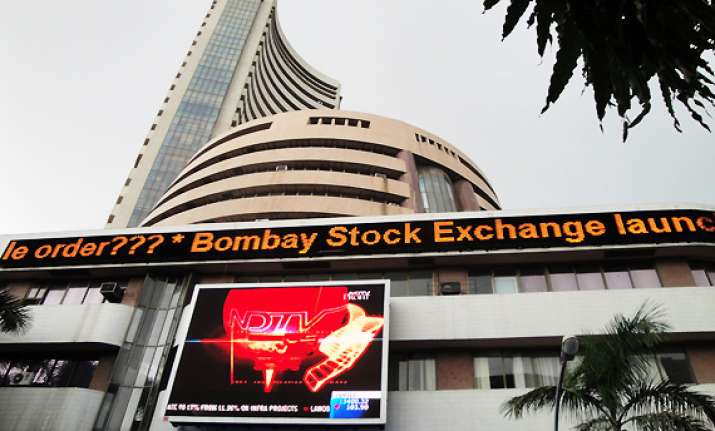 New Delhi, Aug 25: Indian shares fell for a second straight session on Thursday as global growth slowdown fears punctured investor confidence, while weariness ahead of monthly derivative contracts expiry on a local stock exchange also dragged.

The market focus is firmly on Friday's speech by the Federal Reserve Chairman Ben Bernanke at an annual meet of policymakers and academics in Jackson Hole, Wyoming, which some investors hope will contain steps to bolster a faltering U.S. economy.

The 30-share main stock index ended down 0.85 percent or 138.65 points at 16,146.33, with 19 components closing in the red. The benchmark index had risen as much as 0.55 percent earlier.

Analysts said volatile trade was typical ahead of the expiry of the August derivative contracts on the National Stock Exchange on Thursday.

The broader 50-share NSE index fell 1 percent to 4,839.60 points.

"The short rollover for the next month happened at a higher cost, so the market has again started giving up their gains," said Deven Choksey, managing director of brokerage K.R. Choksey.

"I think the short position in the market is still on a higher side," he said.

Foreign funds have sold nearly $1.85 billion of local shares so far in August after purchasing $1.7 billion of equities in July.

Technology shares fell 2.07 percent, as positive comments from the sector leaders failed to negate concerns of a slowdown in corporate IT spending, if economic uncertainties persist in the United States and Europe, which account for more than 70 percent of the industry's revenue.

Brokerage UBS on Thursday lowered its earning per share estimates for large-cap Indian IT companies for fiscal year 2013 to 2016 citing a likely structural de-rating in the sector on increasing competition, slowing deal flows and falling valuations.

Tata Consultancy Services (TCS) , India's top software firm, fell 1.27 percent, while No. 2 player Infosys shed 3 percent. Financial stocks also took a beating, with the banking index shedding 1.4 percent, as concerns of loan defaults and asset quality continued amid rising interest rates and stubborn inflation.

Top lender State Bank of India fell 1.51 percent, while smaller rivals ICICI Bank and HDFC Bank dropped 0.99 percent and 1.88 percent, respectively. Energy major Reliance Industries, which has the biggest weightage on the benchmark index, closed 1.02 percent lower at Rs 753.50.

There was no near-term positive catalyst for the oversold market, analysts said.

Indian automakers closed down 0.18 percent, after bucking the general market trend for most of the session, with Mahindra & Mahindra , India's largest utility vehicles maker, closing almost flat, and Bajaj Auto Ltd rising marginally.

Car sales in India fell 15.8 percent in July, the first drop in two-and-half years, but sales may improve in the festive season that starts in September and peaks in early November, when new purchases are considered auspicious.

In the broader market, almost 2 stocks declined for every single advance on an overall volume of 738.7 million shares.

Last week, the index logged its fourth straight weekly loss, its longest such streak since Lehman Brothers' collapse in September 2008.

European shares were higher on Thursday, extending a rally into a fourth day as speculation grew Bernanke would announce stimulus measures and also as sentiments improved on corporate results that beat forecasts.