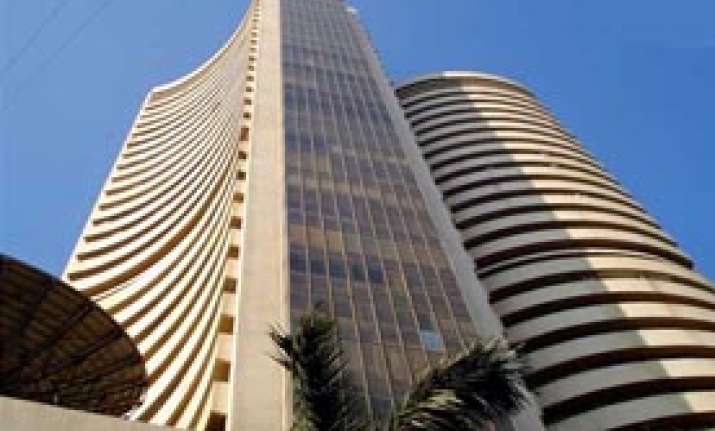 Mumbai, June 10: Surrendering most of its early gains, the BSE benchmark Sensex on Monday closed just 12 points higher as rupee hitting record lows dashed hopes of a rate cut by RBI, while IT stocks rose on expectations of better dollar revenues.
In a volatile trade, the 30-share index, commenced the day strong and touched an intra-day high of at 19,583.58 from its previous close, but settled only 11.84 points higher at 19,441.07.
However, the wide-based National Stock Exchange index Nifty failed to notch up any substantial ground and closed lower by thee points, or 0.03 per cent, at 5,878.
MCX-SX flagship index, SX40, ended 3.99 points higher, or 0.03 per cent, at 11,532.69.
Brokers said cautious investors indulged in shuffling their funds following fresh development on the political front while falling rupee raised hopes of higher revenue by software exporting companies.
They said financial and banking stocks remained under pressure on fears the weak rupee raised fears that the Reserve Bank might put its interest cutting spree on hold.
The rupee today plunged to an all-time low of 58 against the dollar, boosting the repatriated earnings of exporters.
The country's biggest software makers get nearly 60 per cent of their revenue from abroad.
Out of the 30 BSE index components, 16 stocks gained while 14 declined, led by IT majors Wipro and Infosys rising by 2.12 per cent and 1.64 per cent to Rs 342.70 and Rs 2,487.05, respectively.
On the other hand, banks led by ICICI Bank, State Bank of India, Axis Bank, Union Bank of India, Kotak Mahindra Bank, Indusind Bank and YES Bank closed with losses.
Sectorally, the information technology sector index gained the most by 1.01 per cent to 6,200.13 on hopes of better dollar returns on falling rupee.