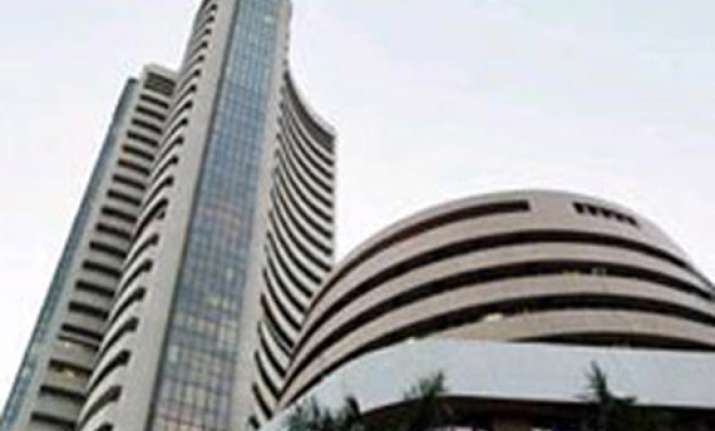 Mumbai, Feb 3: Late buying helped the BSE Sensex log gains for the fourth session in a row today, up 173 points to 14-week high of 17,605 on sustained FII buying in bluechips amid firm trends in the global markets.

Overall, 12 of the 13 sectoral indices made gains, with realty, pharma, power, FMCG, banking and Oil&Gas stocks attracting good investor support. Only BSE-Metal ended in the red with a fall of 1.09 per cent.

RIL, HDFC Bank, HDFC, ICICI Bank, Infosys, TCS, HUL, ITC, ONGC and SBI added almost 150 points to the gains. The Bombay Stock Exchange 30-share Sensex moved in and out of the positive terrain through the session.

Eventually, last hour buying kept it in the green zone and it closed at about 14-week high of 17,604.96, highest since October 31 -- up 173.11 points or 0.99 per cent.

Sensex has surged 741.66 points or 4.40 per cent in the last four sessions. The NSE 50-issue index Nifty gained 55.95 points or 1.06 per cent to settle above 5,300-mark after 14-weeks at 5,325.85.

FIIs, big movers of the market, bought shares worth Rs 2,134.90 crore yesterday as per Sebi data. They had invested Rs 2,092.70 crore on February 1. FIIs had infused more than Rs 10,000 crore last month.

"Markets had a soft to cautious start to the day in the aftermath of the jittery sentiments caused by the Supreme Court verdict on 2G scam case. Investor sentiment improved on reports that the services sector grew at its fastest pace in six months in January 2012," said Shanu Goel, Research Analyst at Bonanza Portfolio.

"There was last hour recovery in the market after European market and US Future bounced back into positive territory. Continued Rupee appreciation and FIIs inflow boosted the market sentiment," said Vikas Vardhan, AVP Research, Motilal Oswal Securities.

Key indices in China, Hong Kong, Singapore and Taiwan gained up to 0.77 per cent, while those in Japan and South Korea ended with losses. Markets in Germany, France and the UK were up in the afternoon trading.

At home, 24 of the 30 Sensex stocks settled with gains. NTPC rose 2.71 per cent, followed by HUL (2.69 pc), Sun Pharma (2.38 pc), DLF (1.97 pc), BHEL (1.93 pc), TCS (1.91 pc), ONGC (1.89 pc), HDFC Bank (1.72 pc), HDFC (1.68 pc), Maruti Suzuki (1.55 pc), M&M (1.54 pc), Cipla (1.52 pc), SBI (1.47 pc), ICICI Bank (1.41 pc), Tata Power (1.40 pc), Coal India (1.37 pc), RIL (1.10 pc), Infosys (0.96 pc) and ITC (0.88 pc).

However, Hindalco fell 3.08 pc, Jindal Steel - 2.66 pc, Tata Steel - 1.56 pc and Sterlite - 0.97 pc.

Among the sectoral indices, BSE-Realty gained 2.15 pc, Healthcare - 1.69 pc, Power - 1.49 pc, FMCG - 1.44 pc, Bankex 1.42 pc and Oil&Gas - 1.13 pc.

Market breadth at the BSE remained positive, as 1,717 stocks ended in the green while 1,166 that finished in the red. The total turnover, however, dipped to Rs 2,930.76 crore from Rs 3,679.07 crore yesterday.