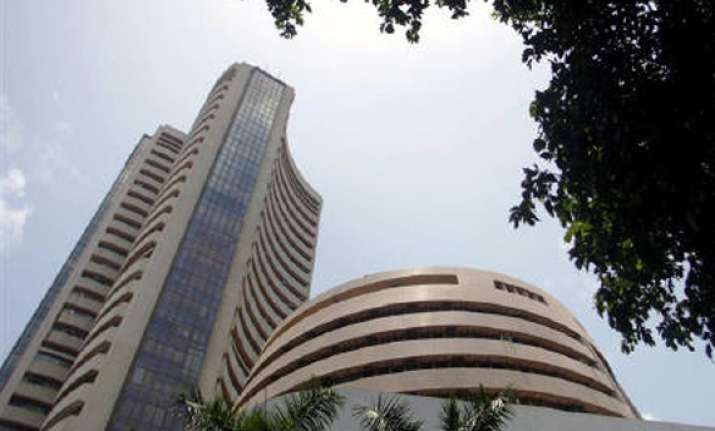 New Delhi, Feb 25: After rising over 90 points, the BSE benchmark Sensex today ended just 15 points higher on cautious trade amid a crash in some midcap and smallcap counters as they plunged by up to 62 per cent on panic selling triggered by speculation that pledged holdings are being sold.
Although Sensex managed to close in the positive terrain at 19,331.69, up 14.68 points or 0.08 per cent breaking a two-day string of losses, market sentiment was negative due to over 1 per cent fall each in mid-cap and small-cap indices.
Around 1,802 scrips fell while 1,011 counters closed up.
IT stocks led by Infosys, TCS and Wipro closed the day with 1-3 per cent gain. Tata Motors also ended over 2 per cent higher. Entities interested in banking like Religare closed around 8 per cent higher.
Cipla (2.6 pc), L&T (2.3 pc), CIL (1.99 pc) and ONGC led 15 losers in 30-share Sensex. RIL also slipped over 1 percent.
In the mid-cap space, shares of Core Projects tumbled 62 per cent and was the biggest loser on BSE, while scrips of Aanjaneya Lifecare, Sudar Ind., Flexituff, ABG Shipyard, Welspun Corp and Gemini Comm. plunged by 20 per cent each.
Market regulator Sebi, along with the bourses which act as front-line regulators, are looking into possible links of a rogue trader who has been barred from the capital markets but could still be trading through front entities.
"Absence of retail investors in Indian capital market is because majority of midcaps are manipulated and operators are never caught," said Vijay Kedia, Director, Kedia Securities.
The broad-based National Stock Exchange index rose by 4.45 points, or 0.08 per cent, to 5,854.75.
Brokers said market participants adopted a cautious approach before the railway and general budgets this week.
Sensex had lost over 325 points in past two sessions.
IT, Tech and Auto stocks attracted good buying support while realty, capital goods, metal refinery and PSU shares were at the receiving end, said equity dealers.
Country's second largest software services exporter, Infosys was the top gainer from the sensex pack with a rise of 2.84 per cent on hopes of sops for exporters in Union Budget.
SBI firmed up by 1.11 per cent after it said today that a issue price of Rs 2,312.78 a share has been for preferential allotment to the government to raise Rs 3,004 crore as part of capital infusion plan for this fiscal.
Outside major indices, sares of Jet Airways tanked more than 4 per cent amid investor concerns whether its stake-sale deal with Abu-Dhabi based carrier Etihad would materialise.
Globally, Asian stocks closed mixed with upward bias. Japanese shares rose 2.43 per cent on speculation the next Bank of Japan governor will deploy aggressive monetary easing. Other indices from China, Hong Kong and Singapore ended with gains while from South Korea and Taiwan settled with losses.
European markets were trading higher in late morning session. The CAC was up by 0.66 per cent, the DAX by 1.07 per cent and the FTSE by 1.25 per cent.
Back home, 15 out of the Sensex scrips firmed up while 14 declined. ITC ruled steady.
Other gainers from Sensex pack were Hero Motocorp (1.42 pc), BHEL (1.29 pc), TCS (1.16 pc), Sun Pharma (1.15 pc), Tata Power (0.93 pc) and Wipro (0.89 pc).
Major losers included Cipla (2.68 pc), followed by L&T (2.30 pc), ONGC (2.04 pct, Coal India (1.99 pc), RIL (1.01 pc), Tata Steel (0.96 pc) and NTPC (0.96 pc).
Among the sectoral indices, the BSE-IT rose by 1.86 per cent, followed by BSE-Teck (1.28 pc) and BSE-Auto (0.78 pc) while BSE-Realty dropped by 2.39 per cent, BSE-CG by 1.68 per cent, BSE-Metal by 1.08 per cent, BSE-Oil&Gas 1.05 per cent and BSE-PSU 1.04 per cent.
The total turnover improved to Rs 1,931.32 crore from the Friday's level of Rs 1,724.64 crore. Meanwhile, FIIs bought shares worth a net Rs 280.30 crore last Friday as per provisional data from bourses.