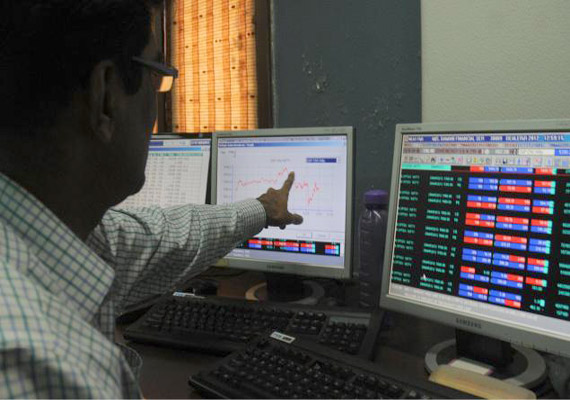 Mumbai, Mar 29: The BSE Sensex partially recovered intra-day losses on fag-end buying to regain the 17k mark and closed at 17,058.61, down 63 points amid today's settlement in this month's derivative contracts and weak global markets. 
The stock market remained in bear-grip for most of the day as investors off-loaded pending positions on expiry of March derivative contracts and weak cues from Asia and Europe. 
Besides, falling rupee ignited fears of inflation on account of costly imports and raised concerns that RBI may not cut interest rates at next month's monetary policy meet. 
A weak trend in the global markets further influenced the sentiment. Key Asian markets closed in the red, and European equities were also trading weak in the afternoon deals. 
"Taking cue from other Asian markets India also opened lower, but in the last quarter a good rally came which covered the gaps left in the morning," said Hemant Mamtani executive director WellIndia.
As far as monthly derivative clearing is concerned it is approximately 5.50 per cent below last month's clearing levels, he said.
The Bombay Stock Exchange 30-share barometer, which was down by over 200 points intra-day, improved somewhat and settled the day at 17,058.61, down 63.01 or 0.37 per cent. 
Yesterday, it was down 135.74 points or 0.79 per cent.  The NSE 50-issue index Nifty moved between 5,194.30 and 5,135.95 before concluding at 5,178.85, displaying a slightly slide of 15.90 points or 0.31 per cent.
Sensex heavyweights Infosys, L&T, TCS, ITC, Bharti Airtel, SBI and HDFC Bank closed in the red, while Jindal Steel, HDFC, ONGC and Tata Power attracted good buying.