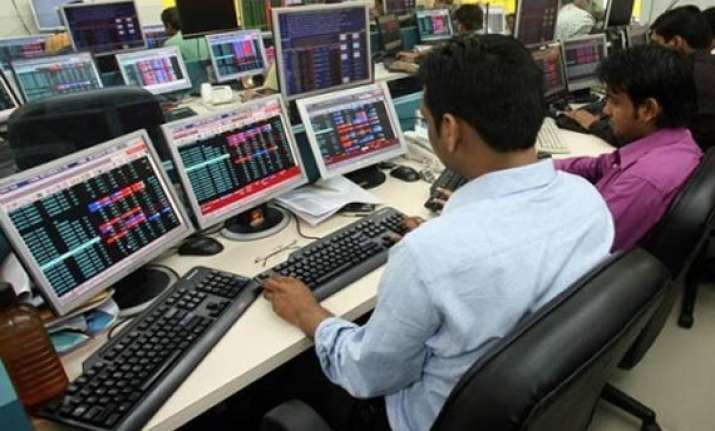 Mumbai, Nov 21: The BSE Sensex fell below the 16k level to 6-week low of 15,946.10 today - down 8 days in a row - as investors continued with the selling spree amid weak global markets on growth worries and the depreciating rupee.

Sensex has lost 1,623.43 points or 9.24 per cent in the eight sessions straight, destroying nearly Rs 5.5 lakh crore worth of investor wealth in the process.

Euro-zone debt crisis as well as fears of slowdown in the US and other major economies have seen investors move away from equities worldwide.

Domestically, below-expected corporate earnings posted for the second quarter, high interest rate regime to combat inflation and lack of major policy initiatives have hit the market sentiment hard.

The BSE 30-share index, Sensex, remained in the negative terrain throughout the day and settled at 15,946.10 -- down 425.41 points or 2.60 per cent—the lowest close since October 5.

The broad-based Nifty of the NSE followed suit and settled below the 4,800 mark for the first time in a month to 4,778.35, down 127.45 points or 2.60 per cent.

All the 13 sectoral indices closed in the red - down between 3.46 per cent and 0.82 per cent - with metals, banking, realty, power, auto and refinery stocks taking the biggest hit. Besides, 28 of the 30 Sensex stocks lost ground.

Sustained capital outflows weighed negatively on the market sentiment, with FIIs pulling out Rs 1,871.62 crore in four days alone, including provisional data of November 18.

Meanwhile, the rupee touched a low of 52 level against the US dollar on rising demand from banks and importers.

Fall in the rupee put pressure on all major importers.

Slide in ICICI Bank, Infosys Tech, RIL, HDFC Bank, HDFC, Tata Motors, ITC, SBI, TCS, Bharti Airtel and ONGC contributed over 300 points to the Sensex decline.

"It was another day of carnage in the stock market.  Sentiment turned for the worse on probability that US will face economic crisis," said Shanu Goel, Senior Research Analyst at Bonanza Portfolio.

There are signs that US lawmakers may not reach an agreement on budget cuts, raising the prospect of US facing another credit downgrade, she added.

"On the domestic front weakness in key heavyweight Reliance Industries and banking counters dragged the market down. Pain was felt in the currency market too as Rupee depreciated further," Goel said.

In Asia, markets in China, Hong Kong, Japan, Singapore, South Korea and Taiwan lost up to 2.64 per cent. European stocks too were trading distinctly weak in the afternoon. Key indices in France, Germany and Britain were down between 2.0 per cent and 2.6 per cent.

Back home, major losers from the Sensex pack were Tata Motors (5.20 per cent), BHEL (5.04 pc), ICICI Bank (4.9 pc), Sterlite Ind (4.85 pc), DLF (4.23 pct), Bajaj Auto (4.21 pc), NTPC (3.93 pc), Jindal Steel (3.73 pc), HIndalco (3.72 pc), SBI (3.04 pc), Tata Steel (3.03 pc), Infosys (2.86 pc), HDFC Bank (2.80 pc), HDFC (2.78 pc), M&M (2.72 pc), ONGC (2.70 pc), RIL (2.62 pc), Bharti Airtel ((2.30 pc), Jaiprakash (2.25 pc) and TCS (2.12 pc).

The market breadth continued to be negative as 1,974 stocks closed with losses, while 786 ended in gains. The total turnover fell to Rs 2,078.91 crore from the Friday's level of Rs 2,348.04 crore.