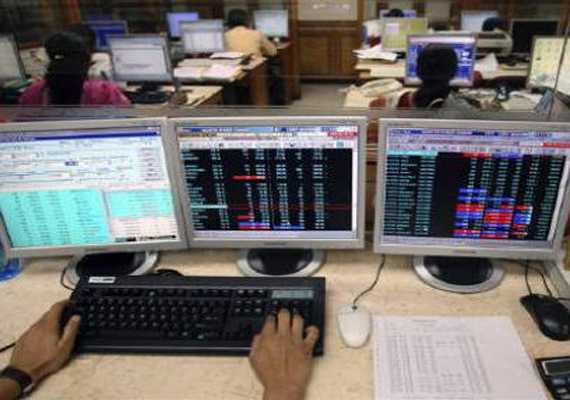 Mumbai, Mar 16: Stock markets fell as investors found the Union Budget proposals today as tax mopping and inflationary, with the BSE benchmark Sensex falling 210 points to 17,466.20, despite firmness in global equities.

Refinery, power, capital goods, banking, PSUs and metals stock faced intense selling pressure.

Finance Minister Pranab Mukherjee in the Budget 2012-13 increased service tax and excise duty to 12 per cent from 10 per cent, which will make cars, fridges, 2-wheelers, ACs and washing machines costly.

Besides, a higher fiscal deficit of 5.9 per cent for the current fiscal overshadowed several positives, including lower income tax and strong indications of more economic reforms.

The Bombay Stock Exchange 30-scrip Sensex was highly volatile and moved between 17,871.00 and 17,426.58. It closed 209.65 points or 1.19 per cent down at 17,466.20.

The 50-scrip NSE index Nifty plunged 62.60 points or 1.16 per cent to 5,317.90.

"After moving up at the start of the Budget, the market saw selling pressure on the announcement of increase in service tax and excise duty. Both these levies would make goods and services costlier and keep up the inflationary pressures," said Milan Bavishi-Head Research-Inventure Growth and Securities.

The hike in the cess created a negative impact on the oil explorers with ONGC, Cairn and RIL falling in the range of 3-6 per cent, he said.

Akshay Gupta, MD & CEO of Peerless Mutual Fund said: "The budget trajectory is headed in the right direction. Despite baby steps, the fiscal consolidation exercise is positive for country's finances."

Investors also remained unimpressed with the proposal to reduce the Securities Transaction Tax (STT), as they were expecting it to be removed totally.

CNI Research CMD Kishor P Ostwal said, "STT reduction is not impressive as delivery volumes are not there in market."

Expressing concerns on macro-economic indicators, he said, there is clear cut impression of weak Govt finances, which could see flight of capital to overseas markets like the US, which are doing extremely well.

Broking firm Nirmal Bang's director Kishore Bang said the volatility in the market may come down in the coming days on the back of increased investor participation.

Besides, analysts said steps such as income tax deduction of 50 per cent to retail investors who invest up to Rs 50,000 directly in equities will help the market.

Since the upper limit of annual income is less than Rs 10 lakh to claim this benefit, it covers a significant portion of the tax-paying population. This should provide significant impetus for an individual who is not in the markets, as of now, to enter the capital markets, Bang said.

Globally, while Asian markets were mixed, European equities were trading up in the afternoon deals.

Overall, 21 of the 30 Sensex scrips closed with losses. Sun Pharma was the top loser, down 7.09 per cent, followed by ONGC (4.66 pc), Jindal (4.23 pc), NTPC (3.82 pc), Tata Power (3.65 pc), BHEL (3.54 pc), RIL (3.27 pc), Sterlite (3.22 pc), L&T (3.17 pc), SBI (3.11 pc), GAIL India (1.96 pc), Cipla (1.75 pc), Tata Steel (1.72 pc), Bharti Airtel (1.46 pc) and ICICI Bank (1.42 pc).

Eleven of the 13 sectoral indices closed with losses. BSE-FMCG and Auto rose 1.91 pc and 0.22 pc. Oil&Gas dipped by 3.32 pc; Power - 2.98 pc; Capital Goods - 2.94 pc; PSU - 2.63 pc; Metal - 2.22 pc; Healthcare - 2.02 pc; Bankex - 1.92 pc and Realty - 1.26 pc.

The total market breadth was negative as 1,804 stocks closed in the red, while 1,044 made gains. The total turnover was higher at Rs 3,581.35 crore, from Rs 2,767.92 crore yesterday.