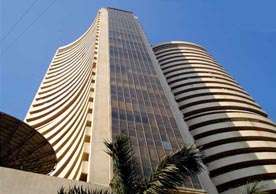 Mumbai, July 26: The BSE benchmark Sensex on Friday slid for the third straight day by losing 56 points to a fresh two-week low 19,748.19 on selling in HUL and Tata Motors shares, amid nervousness in rate-sensitive sectors ahead of the RBI credit policy review next week.
The Sensex, which had lost 498 points in past two days, declined further by 56.57 points, or 0.29 per cent, to 19,748.19 -- the lowest close since 19,676.06 on July 11.
Brokers said investors refrained from creating major positions before RBI credit policy scheduled on July 30.
They also said market participants feared that the RBI's recent liquidity tightening measures to curb weakening rupee might hurt economic growth prospects in the short-term.
Pressure was more confined to banking and interest-sensitive stocks, besides metal and PSU shares.
The broad-based National Stock Exchange index Nifty dipped below another crucial level of 5,900 this week by losing 21.30 points, or 0.36 per cent to 5,886.20. Also, SX40 index, the flagship index of MCX-SX, fell by 37.91 points, or 0.32 per cent, to end at 11,791.25.
State Bank of India, the country's biggest lender, dropped by 1.93 per cent, ICICI Bank by 0.32 per cent and HDFC Bank by 1.45 per cent, Others like Yes Bank and Axis Bank also ended lower.
Hindustan Unilever, an Indian unit of the world's second-biggest consumer-goods company, plunged by 3.38 per cent after lower quarter earnings, said analysts.
Hindalco (7.59 per cent), Tata Motors (3.34 per cent) TCS (1.17 per cent) were among notable Sensex losers.
The metal sector index suffered the most by losing 3.52 per cent, followed by realty sector index (1.59 per cent), Public Sector Undertaking sector index (1.50 per cent) and Banking index (1.43 per cent) fared badly.