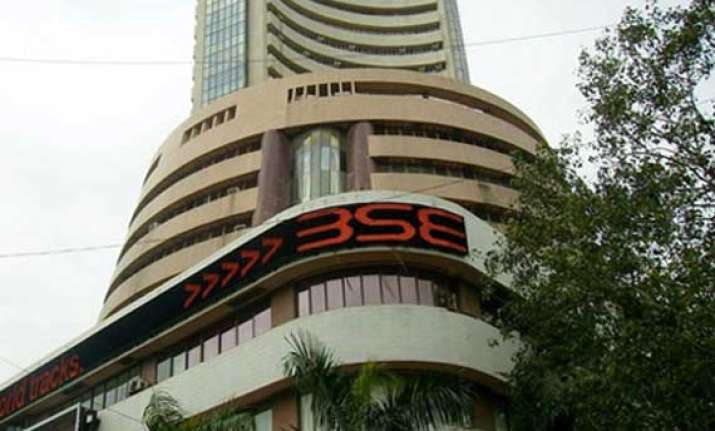 New Delhi, Feb 14: The BSE benchmark Sensex declined by 111 points 19497.18 due to persistent selling pressure in blue chip stocks. The markets shrugged off better-than-expected January WPI, amid profit booking in auto, financials and index heavyweight Reliance Industries.
The BSE Sensex dropped 111 points or 0.6 per cent to 19,497. The Sensex had touched an intra-day low of 19,444 levels.
Similarly, the broad-based Nifty declined 36 points to 5,897. The 50-share index ended at 5,888.65, down 44.30 points or 0.75 per cent. It touched a high of 5,940.20 and a low of 5,884.55 in trade today.
Auto, consumer durables, Energy, power, realty, and healthcare stocks fell over 1 per cent cut. Capital goods shares posted a sharp decline of 2.3 per cent due to selling in Siemens.
Shares in Bharti Airtel and Reliance Communications also took a beating on account of reports that the government is demanding additional money for their permits and airwaves. Maruti Suzuki shares also took a 3 per cent dip because of exclusion from the MSCI World index, which is closely tracked by passive funds.
The BSE Midcap Index fell 1.51 per cent and the BSE Smallcap Index was down 1.94 per cent.
Top Sensex gainers were Suzlon Energy (+ 3.71 per cent), Unitech (+ 2.96 per cent), PetronetLNG (+ 2.72 per cent), Eicher Motors (+ 2.39 per cent) and Hindustan Unilever (+ 2.24 per cent). The losers pack included Opto Circuits India (-10.31 per cent), Jaiprakash Power Ventures (-7.40 per cent), and LIC Housing Finance (-5.88 per cent).
During the day, wholesale prices  -- India's main inflation gauge – fell to 6.62 per cent in January despite rise in prices of food items like vegetables, onions and rice. The Wholesale Price Index (WPI) had stood at 7.18 per cent in December and 7.24 per cent in November. It was at 7.23 per cent in January, 2012.
Prime Minister's key economic advisor C Rangarajan today hoped that inflation will come down to 6.5 per cent by end-March and suggested that steps should be taken to release more food stocks to ease price pressure.
The market breadth in BSE was not good with 1,475 shares declining and 649 shares advancing.