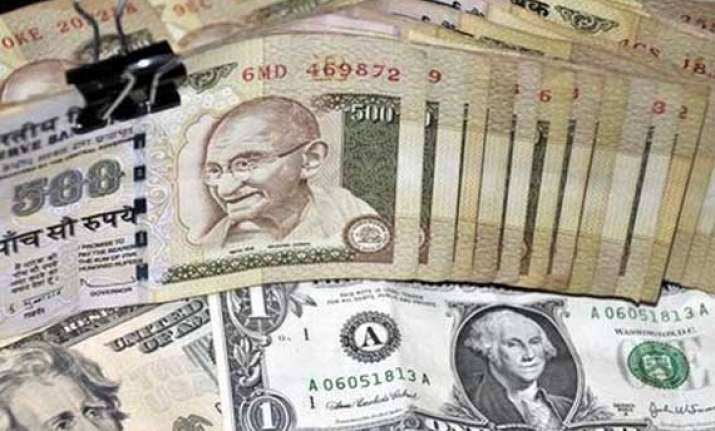 New Delhi, Dec 24: Snapping its two-session losing string, the rupee on Monday reclaimed the 54-mark, gaining 11 paise against the dollar to close at 54.95 on fresh selling of the US currency by exporters amid sustained capital inflows.
Forex dealers said a weak dollar overseas also boosted the rupee sentiment, cutting short a two-day losing trend.
The local unit commenced slightly lower at 55.10 against the dollar at the Interbank Foreign Exchange (Forex) market and touched a low of 55.21.
The rupee then touched a high of 54.94 before settling at 54.95, a net gain of 11 paise, or 0.20 per cent. In last two sessions, the local unit had dipped by 51 paise.
Meanwhile, the BSE benchmark Sensex closed marginally higher at 19,255.09. Foreign institutional investors injected USD 176.72 million into local equities on Friday, taking the total to over USD 3.5 billion in the current month so far.
The dollar index was up by 0.19 per cent against a basket of six major global currencies.
The premium for the forward dollar remained weak on consistent receipts by exporters.
The benchmark six-month forward dollar premium payable in May declined to 155—1/2—157—1/2 paise from last weekend's end of 157—1/2—159—1/2 paise.
Far-forward contracts maturing in November also moved down further to 299—301 from 301—303 paise.
The RBI has fixed the reference rate for the US dollar at 55.0858 and for euro at 72.6164.
The rupee recovered against the pound sterling to 89.02 from previous close of 89.44 and also bounced back against the Japanese yen to 65.07 per 100 yen from 65.42.
However, it improved further slightly to 72.69 per euro from last close of 72.71.
The Forex and Money markets will remain closed tomorrow, December 25 for Christma.