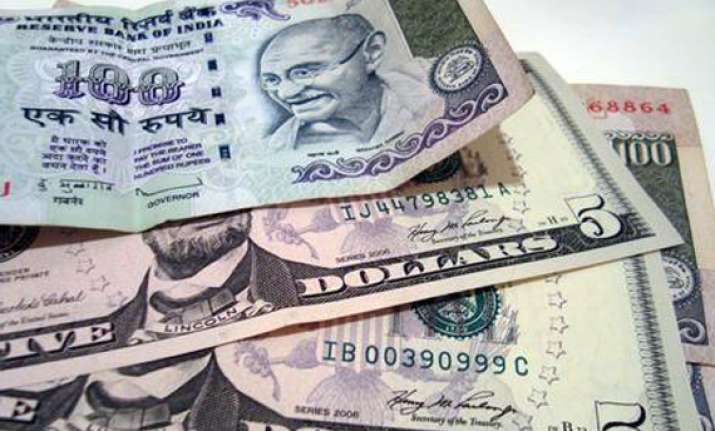 Mumbai, Jun 22: The rupee today fell to all-time low of 57.37 intra-day against dollar on intense demand for the US currency, particularly from oil importers, but ended at 57.15, recording this year's biggest fall of 85 paise in a day.
Dealers said RBI action was missing in forex market even as rupee continued its free-fall for the fifth day in a row.  They also said the rupee breached the 57 level due to strong dollar demand from oil importers in the wake of crude falling to near 18-month low of USD 90 a barrel levels.
Union Bank of India, Treasury Head, V J Mhatre, said, "Apart from oil importers, there was also news that some corporate houses have bought dollar for FCCB repayment."
At the Interbank Foreign Exchange (Forex) market, the domestic unit opened lower at 56.80. Later, it plunged to life-time low of 57.31 before recovering some ground to end at 57.15, a fall of 85 paise or 1.51 per cent from last close of 56.30.
As rupee touched its record low of 57.37 a dollar, Finance Secretary R S Gujral in New Delhi said, "Government (is taking) action in terms of supportive measures for ensuring higher inflows of foreign exchange ... government is conscious of (situation) and is taking appropriate action."
Meanwhile, the Reserve Bank directed state-owned oil firms to buy half of their dollar requirement for oil imports from a single public sector bank SBI.
"RBI letter (asking oil marketing companies to buy US currency from a single public sector bank) has come to the government. We are in correspondence with the oil companies to make sure they comply with the directive," Oil Secretary G C Chaturvedi told reporters here.
But it seems the worst is not over for rupee as treasury managers said the domestic currency could even breach the 58 level. "Rupee is likely to depreciate further to Rs 58.00-58.40 level per dollar next week," Anindya Banerjee, Senior Manager Currency Derivatives Research Desk, Kotak Securities, said.
Meanwhile, the BSE benchmark Sensex was down by nearly 225 points at mid-session but recovered major part of its losses at the fag end, still closing down by 60 points.
According to provisional data, FIIs withdrew over Rs 174 crore from equities today.
Dealers attributed fag end recovery of 16 paise to the Finance Ministry statement that RBI and the government were taking steps to arrest fall of rupee against the US currency.
Dollar also gained against euro and other currencies in the overseas forex markets amid global economic growth concerns, Moody's downgrade of world's 15 biggest banks and mounting worries over euro-zone debt troubles including the size of a bailout needed to save Spain's banking sector.
"Lack of monetary easing from the US Federal Reserve has triggered a run for the US Dollar and selling in equities and commodities globally," Banerjee said.
The dollar's gain came a day after the US Federal Reserve disappointed some expectations that its policy board would decide to launch a new quantitative easing programme that would inject more money into the economy to boost growth.
The US Dollar has emerged as the top performer in the aftermath of the announcement. The euro had lost 1.25 per cent on the greenback from Wednesday, falling to USD 1.2543 from USD 1.2702.
The British pound fell in parallel to the euro, moving to USD 1.5590 from USD 1.5719. The dollar gained to 0.9572 Swiss francs from 0.9455 francs.
Markets would keep a close eye on the next week's European Union summit, which is expected to discuss measures on combatting the crisis.
"In case concrete measures are not announced, then it can cause further sell-off in risk assets and rally in the US Dollar," Banerjee said.