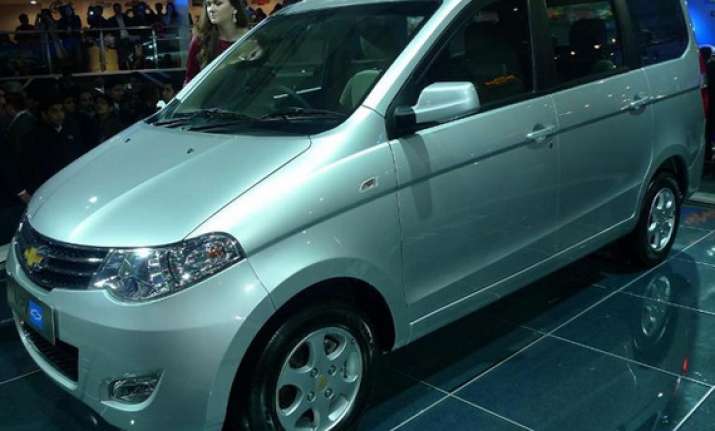 New Delhi, May 26: Chevrolet has confirmed that it will launch its modern utility vehicle 'Enjoy' in the Indian market next month. Chevrolet Enjoy is a well developed seven seated Multi Purpose Vehicle (MPV) set up on the Wuling CN100 platform and was introduced in the Indian Market by General Motors.
The company has also released some pictures and details of Enjoy and started an online campaign called 'Enjoy Voyage' that allows people to participate and win an all new Chevrolet Enjoy. The company is hopeful that the Chevrolet Enjoy will do exceptionally well in the Indian market due to its special features like g space, styling and design.
The vehicle, which will be launched in both petrol and diesel variants, is currently undergoing trials at the Halol plant of General Motors India. The company says the Chevrolet Enjoy has been designed for those who for sophistication, ease and space in their vehicle which can make their life delightful. It says Enjoy, with seven seats, will cater to the demands of big Indian families.
Exteriors
On the outside, Chevrolet Enjoy has a bold and masculine character. From the front, it looks like a typical Chevy car with the golden bowtie sitting in the middle of the grille. The exterior of the car features raked up bonnet, good-looking nose and properly silhouetted headlights, fog lamps and tinted windshields with wiper. The vehicle has been designed with strong and sturdy chassis. To give a fluidic look to the Chevrolet Enjoy, the bonnet of the vehicle is decorated with downy characteristic stripes.
The Enjoy has dimensions of 4305 mm in length, 1680 mm in breadth and 1750 mm in height. The Enjoy rides on 175/65/R14 tyres, which look too small for its size.
The side profile of the MPV is still decent, if not too attractive. The Enjoy is identifiable from the side with its thick B and C pillars along with the large pentagonal glass for the third row. There is crease line that extends throughout the waist line to divide the mass of the body of the MPV. The wheels arches are very sharply carved and are outfitted with 6-spoke alloy wheels.
The rear of Enjoy has also kept simple. A wide tinted windshield with wiper is followed by the Chevrolet Bowtie. Just above the number plate you'll find a thick chrome band. A high mounted stop lamp is given for enhanced safety of the MPV. The tail lights look quite sleek. The highlight of Chevrolet Enjoy is its roof rails.
In a nutshell, all the exteriors of Chevrolet Enjoy have been done in a very poised manner, keeping in mind the needs and requirements of the Indian consumers.