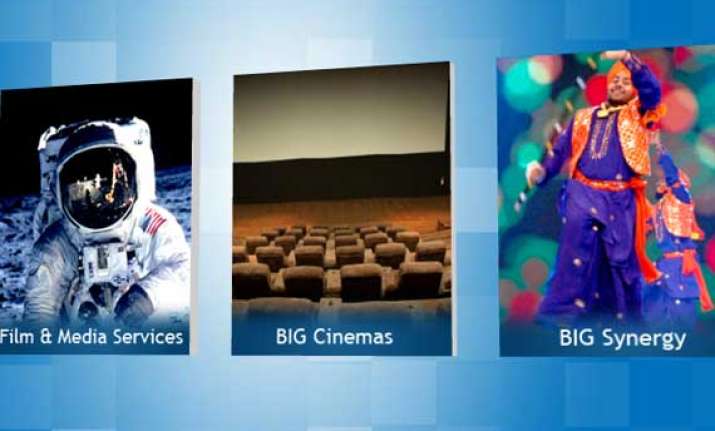 Mumbai, Nov 5:  Media and entertainment company Reliance MediaWorks on Monday reported a consolidated loss of Rs 233.25 crore for the quarter ended September 30, 2012.
The net loss stood at Rs 120.51 crore in the same period last year, Anil Ambani-led company said in a filing to the BSE.
Reliance MediaWorks operates three businesses — film distribution under BIG Cinemas, TV production unit under BIG Synergy, and a film and media services segment.
The current fiscal of the company extended till September 30, 2012.
"Hence, the data in respect of the 18 months from April 1, 2010 to September 30, 2011 has been derived as a summation of the data for the year ended March 31, 2011 and the half year ended September 30, 2011. Accordingly, results for the quarter ended September 30, 2011, have been included as the corresponding quarter," it added.
Total income from operations was lower at Rs 214.46 crore in the quarter under review, compared to Rs 234.61 crore in the July-September 2011 quarter.
Film production services business accounted for Rs 35.35 crore of revenues, while those from theatrical exhibition and television/film production and distribution segments stood at Rs 163.26 crore and Rs 17.39 crore in the reported quarter, respectively.
The company has listed certain exceptional items like loss on sale of investment in subsidiaries in Malaysia (Rs 27.22 crore), loss on litigation settlement by US subsidiary (Rs 26.83 crore) and provision for amount recoverable from Digital Domain Productions, a subsidiary of Digital Domain Media Group (DDMG)), for various services rendered.
During the quarter, the company, through its wholly-owned subsidiary in US, acquired the assets of DDMG's VFX and commercial business jointly through an auction process with Beijing Galloping Horse Media.
On a standalone basis, the company's net loss stood at Rs 178.40 crore in the July-September quarter against a loss of Rs 89.79 crore in the same quarter of 2011.
Total income, on standalone basis, was at Rs 141.75 crore in the reported quarter from Rs 148.84 crore in April—June 2011 quarter.
Reliance MediaWorks' board had earlier this year approved raising up to Rs 600 crore through rights issue to "substantially reduce the debt" of the company. The company's current liabilities stood at Rs 2,088.52 crore as of September 30, 2012.
The company is also raising about Rs 605 crore from a foreign private equity fund by selling a substantial minority stake in its Film and Media Services division.