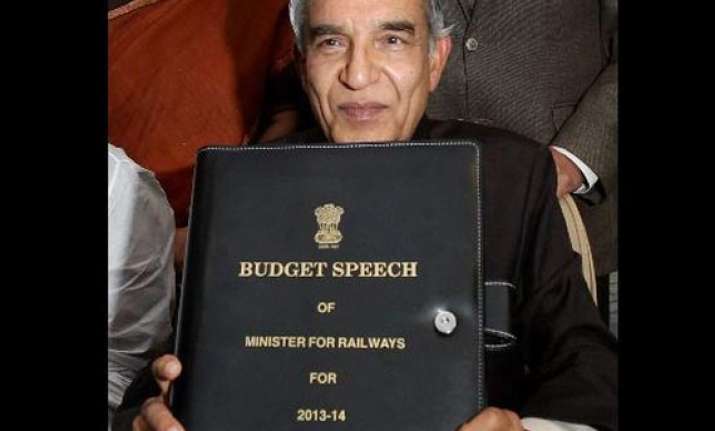 New Delhi, Feb 27: Railway Minister Pawan Kumar Bansal ruled out roll back of the proposed hike in reservation charges in superfast trains.
"The proposed hike will be applicable on only three per cent of total tickets booked in trains and I have taken the steps in the interest of genuine passengers and to deter the touts", Bansal said. Bansal has proposed supplementary charges for super fast trains, reservation fee, clerkage charge, cancellation charge and Tatkal fee in his maiden rail budget.
The FAC, which is being introduced on freight tariff from April one, would alone fetch an additional revenue of Rs 4,200 crore, Railway Minister Pawan Kumar Bansal told reporters after presenting the 2013-14 rail budget in Parliament.
The supplementary charges, to be levied on super-fast trains, include hikes in supplementary charges for these trains, reservation fee, clerkage charges, cancellation charges and tatkal charges, would together increase the
revenue earnings by Rs 483 crore, he said.
A Cabinet note, to establish an independent Rail Tariff Authority to suggest revision in passenger fares and freight tariff, has been prepared by the Railway Ministry for
inter-ministerial consultations.
"The Cabinet will take it up as soon as these consultations are over," Bansal said.
Justifying the hike in these charges, he said the move was aimed deterring touts and travel agents from booking bulk tickets, thereby depriving genuine passengers. "This would result in improvement in the system.... There are no hidden charges. Nothing can be hidden."
However, the total outgo of the Railways, primarily due to increase in diesel prices and electricity tariff, would be more than Rs 5,100 crore, he said.
Bansal also said that the enhanced reservation fees is proposed to be abolished as a passenger-friendly measure. The development charge on rail tickets has already been abolished since January this year.
He, however, reiterated that there was no increase on basic passenger fares now, though he did not rule out imposition of FAC on ticket prices in the future.
"I have left it to Parliament to discuss this issue," he said, adding that the FAC was not being imposed on passenger fares "as of now" and the Railways would absorb the impact of Rs 850 crore on this count.
Maintaining that rail travel would not become dearer due to the revision in supplementary charges, the Minister said the hike was only about three per cent.
"I have tried to improve financial health of railways. The growth of the Railways goes along with the growth of the GDP," he said.
Maintaining that the IRCTC e-ticketing site would be strengthened by this year-end, Bansal said it would be able to book 7,200 tickets per minute as against 2,000 at present. Its handling capacity would also be enhanced to accommodate 1.2 lakh users simultaneously as against the present level of 40,000.
Regarding revision in reservation charges, he said in AC-III class, it would be raised from Rs 25 to Rs 40 and AC-I and AC-II, it would be doubled from Rs 25 to Rs 50.
Asked about the Railway's profits, the Minister said the fund balances are expected to exceed Rs 12,000 crore in 2013-14 and the Ministry would strive to maintain the Operating Ratio at 87.8 per cent.
He said the freight loading target has been increased by 40 million tonnes (MT) from 1007 MT in 2012-13 to 1047 MT.
While the passenger growth is expected to be at the rate of 5.2 per cent, the gross traffic receipts are estimated to be about Rs 1,43,742 crore in 2013-14, marking an increase of over Rs 18,000 crore in 2012-13, Bansal said.
He said the Railways has received a general budgetary support of Rs 26,000 crore – a Rs 2,000 crore increase compared to the 2012-13 budgetary allocation.