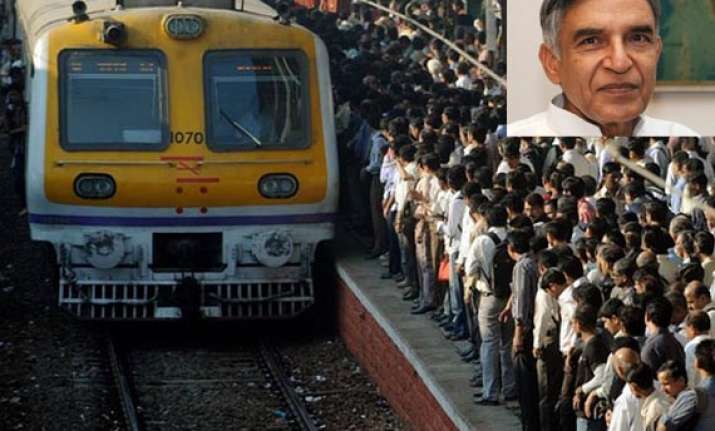 New Delhi, Feb 26: The Railway Budget for 2013-14 on Tuesday spared passengers from any further hike in fares but raised various other charges on tickets along with freight tariff of less than 5 per cent.
Presenting the Budget in the Lok Sabha, Railway Minister Pawan Kumar Bansal, who had effected an across-the-board hike in passenger fares only last month, said he does not intend to pass on the impact of deregulation of diesel price for now and the Railways will absorb a burden of Rs 850 crore on account of this. 
The first Congress minister to present a Railway Budget in 17 years, Bansal adopted Fuel Adjustment Component introduced by former Trinamool Minister Dinesh Trivedi which will be dynamic in nature and change in either direction with revision in fuel cost twice a year.
He said this may result in an upward revision of freight tariff, effective from April 1, this year, by less than 5 per cent.
In his 75-minute speech which was drowned in opposition slogan-shouting towards the end, Bansal said there are a number of supplementary charges which have not been revised for last several years.
"I propose to effect marginal increase in some of these. These include supplementary charge for superfast trains, reservation fee, clerkage charge, cancellation charge and tatkal charge," he said, without specifying the quantum of these charges.
Bansal, however, proposed to abolish the concept of enhanced reservation fee with a view to simplifying the fee structure, having already discontinued development charge in January this year.
In January, the minister effected an across-the-board hike in passenger fares that would net Rs 6,600 crore a year.
However, the subsequent hike in diesel price and electricity charges put an additional burden of Rs 3,300 crore on the railways which is projected to see a loss of Rs 24,600 crore in the current financial year, up from Rs 22,500 crore in 2011-12 in passenger traffic segment.
Bansal said the proposal for setting up of Railway Tariff Regulatory Authority has been formulated and was at the stage of inter-ministerial consultations.
The Budget proposes introduction of 67 new Express trains, 26 new passenger trains and extension of 57 others.
It also contains a slew of concessions like complimentary passes to recipients of Rajiv Gandhi Khel Ratna and Dhyan Chand awards in First Class and 2nd AC and Olympic medalists and Dronacharya awardees in Rajdhani and Shatabdi trains. 
With regard to passenger amenities, the Budget proposes provision of free Wi-Fi facilities on several trains, progressive extension of bio-toilets on trains and induction of Next-Gen e-ticketing system capable of issuing 7,200 tickets per minute against 2,000 now.
As many as 1.2 lakh users can access tickets simultaneously under the proposed upgraded system against 40,000 now.
Touching on financial performance for 2012-13, Bansal said loading target has been revised to 1,007 Million Tonnes against 1,025 MT in budget estimates due to economic slowdown.
Gross Traffic Receipts have been fixed at Rs 1,25,680 crore in revised estimates, short by Rs 6,872 crores over Budget estimates.
Ordinary Working Expenses have been retained at Budget Estimate level of Rs 84,400 crores, while pension payments have increased by Rs 1,500 crore to Rs 20,000 crores.
Dividend liability to the government has been fully discharged. The Budget shows an 'excess' of Rs 10,409 crores as against the Budget amount of Rs 15,557 crores. Loan of Rs 3,000 crore taken in the current year has been fully repaid along with interest. Operating Ratio has been recorded at 88.8 per cent, as compared to 94.9 per cent in 2011-12.
The Budget Estimates for 2013-14 has fixed a freight loading target of 1,047 MT, 40 MT more than the previous year.
Passenger growth has been estimated at 5.2 per cent and gross traffic receipts at Rs 1,43,742 crore, an increase of Rs 18,062 crore over the revised estimates of the current year.
Ordinary working expenses have been placed at Rs 96,500 crore. Appropriation to Depreciation Reserve Fund has been pegged at Rs 7,500 crore and Pension Fund at Rs 22,000 crore.
Dividend Payment has been estimated at Rs 6, 249 crore.
Operating ration is expected to improve by one per cent to 87.8 per cent and fund balance to exceed Rs 12,000 crore.     Annual Plan for Railways for the coming year has been fixed at Rs 63,363 crore, the largest ever, with Gross Budgetary Support of Rs 26,000 crore. Allocation for Railway Safety Fund has been fixed at Rs 2,000 crore while internal resources have been estimated at Rs 14,260 crore.
As part of extra budgetary resources, market borrowing has been pegged at Rs 15,103 crore while public-private partnership will yield Rs 6,000 crore.
Inducting fiscal discipline, the Railway Minister said no supplementary demands for grants will be introduced in the monsoon or winter sessions of Parliament and 347 projects have been prioritised with assured funding.
A new Debt Service Fund will be set up to meet committed liabilities and a target of creating a fund balance of Rs 30,000 crore in the terminal year of the 12th Plan has been fixed.
As many as 72 additional suburban services will be introduced in Mumbai and 18 in Kolkata. There are plans to introduce first AC EMU rake in the Mumbai suburban network in the coming financial year.
Rake length has been increased from nine to 12 car for 80 services in Kolkata and 30 in Chennai.
The Budget proposes 500 km of new lines, doubling of 750 km and gauge conversion of 450 km.
Arunachal Pradesh will have the first ever rail link in the coming year, Bansal announced.
The Budget proposes a corporate safety plan for a 10 year period (2014-24) and elimination of 10,797 level crossings during the 12th Plan.
There will be no addition of level crossings in the Indian Railways henceforth. As part of safety features, a train protection warning system on automatic signalling systems will be introduced and rigorous trials of the indigenously developed train collision avoidance system will be conducted.
Among the rail-based industries to be set up are, a Forged Wheel Factory at Rae Bareli, the constituency of Congress chief Sonia Gandhi, a greenfield MEMU manufacturing facility at Bhilwara in Rajasthan and a coach manufacturing factory at Sonepat.