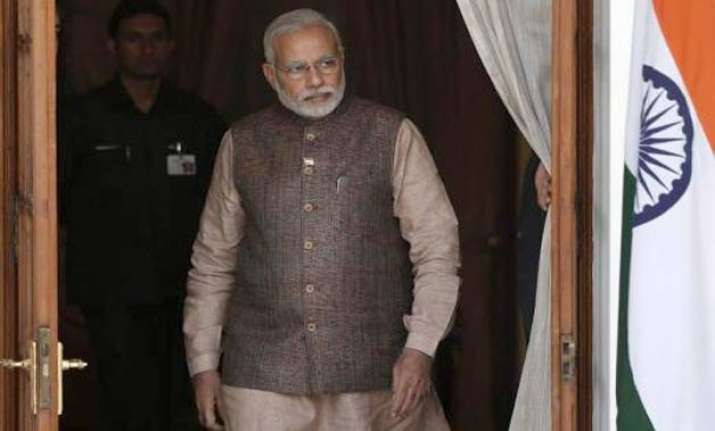 New Delhi: In order to match the growing Chinese influence in the Indian Ocean region, India will look to explore ways to boost economic partnership and make the free trade agreement with Sri Lanka during Prime Minister Narendra Modi's two-day visit to the island nation this week.
According to a report in Economic Times, it is expected that a credit line will be offered to Sri Lanka to ensure funds for infrastructure and development projects and expanded support for military training.
The March 13-14 visit is the first standalone trip by an Indian PM to the southern neighbour in 28 years. With a new government in Colombo under President Maithripala Sirisena, India will consider investing in the island nation's manufacturing sector to help boost its economy.
Early conclusion of the Comprehensive Economic Partnership Agreement, which was blocked by the previous Lankan government, could also be on the agenda of meetings between Modi and Sri Lankan leaders.
Indian investments would increase the export capacity of Sri Lanka, the sources said, adding that Colombo is keen for Indian investments in automobile parts, pharmaceutical, textile and engineering products.
The first FTA that India signed with any country was with Sri Lanka. Trade between the two is worth more than $5 billion. A key deliverable from the visit will be the credit line for Lanka's infrastructure sector and development projects, an official said.
The countries are likely to work towards the final approval for a 500 mw power plant, which is proposed to be built by India's state-run NTPC under a 2012 agreement in Trincomalee, a strategic port in eastern Sri Lanka.
The commerce secretaries of the two countries had met in Colombo last week to explore ideas to boost trade and increase Lankan exports to India under the FTA, sources said.
The agreement was made on the implementation of the ferry service between Talaimannar and Rameshwaram as well as Colombo and Tuticorin, along with conclusion of the Revised Air Service Agreement that had been initiated in September 2013 with an eye on boosting tourism.
Hoping to balance China's growing interests in the Indian Ocean Region as part of its Maritime Silk Route Strategy, India located the maritime needs of the island nations in the region and started addressing them during the past one year, sources said.
Last year, India-Sri Lanka-Maldives trilateral talks were held in Delhi and the ambit could be expanded to include Mauritius and Seychelles - two other countries that Modi is visiting in his three-nation trip starting March 10.
The aim would be to strengthen maritime security cooperation, including anti-piracy and counter-terrorism operations in the region. In Mauritius, the PM will commission an India-built patrol vessel.
India and Seychelles are hoping to sign an agreement on mapping of the waters around the archipelago. Seychelles has been viewed by China as a possible replenishment port for navy ships taking part in anti-piracy operations in the region.