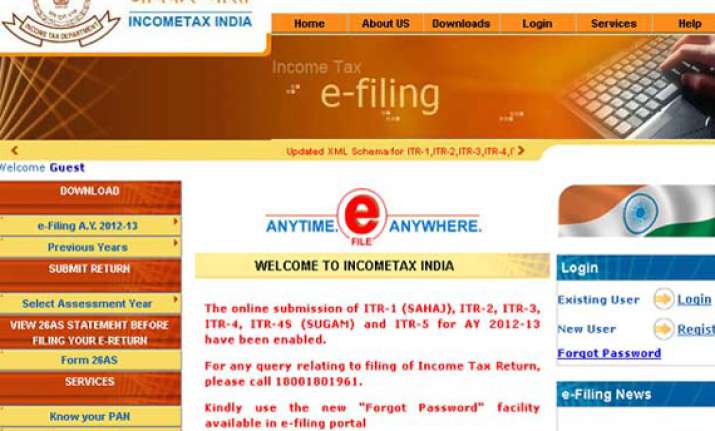 New Delhi, Aug 7: More than 1.23 crore e-returns were filed by taxpayers during the current filing season, a 68 per cent jump in numbers as compared to last year.
Latest data compiled after deadline for filing of income tax returns closed on August 5 shows, more than 87 lakh salaried class taxpayers filed their tax returns online this year, registering an overwhelming rise of 85 per cent in this category as compared to the last time.
"123.03 lakh returns have been e-filed till August 5, 2013 which is 68.3 per cent higher than 73.11 lakh returns e-filed in the corresponding period during last year. Upto August 5, 87,13,493 returns were e-filed under ITR 1 and ITR 2 (salaried class of taxpayers) which is 85.8 per cent higher than the 46,90,279 returns e-filed under ITR 1 and ITR 2 in the corresponding period last fiscal," the Central Board of Direct Taxes (CBDT) said in a statement today.
The board had earlier extended the last date for filing of I-T returns for assessment year 2013-14 to August 5, both manual and e-filed, because of pressure on the computer servers of its Bangalore based Central Processing Centre (CPC) which deals with e-filing.
The CBDT said the deadline was extended from July 31 to August 5 as there was "an overwhelming response to e-filing from every corner of the country."
Interestingly, 6.92 lakh returns were e-filed on August 5 alone, the last date of filing.
The department's servers, according to official data, received a peak rate of 2,303 returns per minute during the current filing spree.
A special team of the department has been deployed to continuously monitor the web portals and other technological parameters of the official e-filing website of the I-T department--incometaxindiaefiling.gov.in.
Electronic filing has been made mandatory for assesses having net taxable above Rs five lakh from this year.