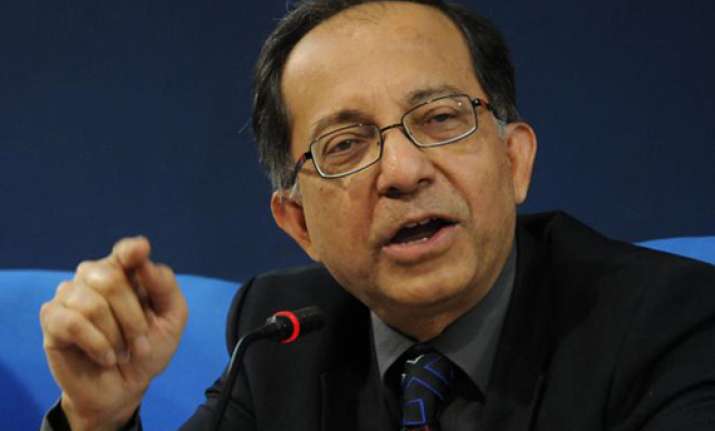 Mumbai, Jun 9: Days ahead of credit policy review by the Reserve Bank, Chief Economic Adviser to The Govt. Of India, Kaushik Basu on Friday said "out-of-the-box" thinking is needed in the monetary policy and favoured slashing interest rates to boost sagging economic growth.
"What we need to do is to create more space for the private sector to invest. But my personal feeling is that given that growth in doing so poorly, and the investment mood is down, some easing up on interest rates in the form of a repo cut is worthwhile at this juncture. Our focus has to be entirely on growth at this point of time," Basu said.
Speaking after an Exim Bank function here this evening, he said when money made a bit more available, investment begins to pick up, which in turn allows a more energetic economy at this stage, given that growth is doing so poorly.
"In terms of monetary policy, we need to do some amount of thinking out-of-the-box," he said, adding that fiscal stimulus alone cannot do the needful in a highly gloablised economy.
Earlier in the day RBI Deputy Governor K C Chakrabarty said interest rate is not so high that it is hurting growth and that there is no proof to show that high rates have led to poor GDP numbers this year.
"I don't think that the interest rates are that high, or our policy rates are that high that should significantly affect growth. Growth is being affected for a variety of reasons. We are overplaying the interest rate aspect (for low growth). It may be one of the reasons," Chakrabarty said.
"I don't know how much growth sacrifice is due to lack of productivity, lack of efficiency, and how much is it due to inflation," he added.
The economy slumped to of 6.5 per cent in 2011-12--lowest in nine years. Many have blamed the Reserve Bank's tight monetary policy Centre for the poor show. Perceived policy paralysis is also cited as reason for the slowdown.
Between March 2010 and October 2011, the RBI had hiked key lending rates by a whopping 375 basis points through 13 consecutive increases to rein in inflation which was near double-digits.
The Reserve Bank of India's mid-quarterly monetary policy review is slated for June 18.