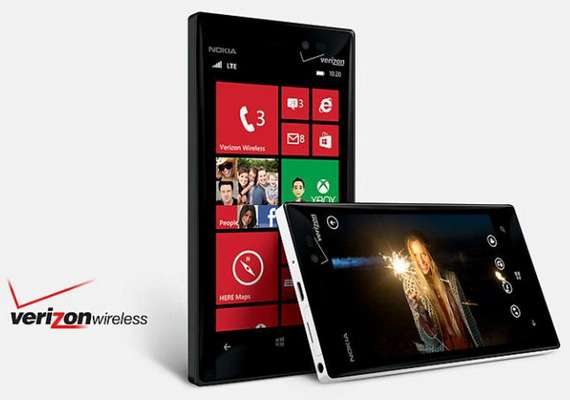 New Delhi, May 12: Nokia has made it official that it will sell a new high-end smartphone through US carrier Verizon Wireless. The flagship Windows Phone will launch on May 16 for $100, counting a $50 mail-in rebate.
The Nokia Lumia 928 is similar to the Lumia 920 that launched on AT&T late last year. Both phones have 4.5-inch, 1280-by-768 resolution displays, 1.5 GHz dual core processors, 1 GB of RAM, 32 GB of storage, wireless charging and the ability to use the touch screen through gloved fingers. It weighs 162gram compared with 185gram for the 920.
The 928's 4.5-inch screen also extends to the edge of the phone. The device comes in black and white compared with the colourful options of the earlier Lumia range.
They also both have Nokia's 8.7-megapixel PureView camera, which offers solid low-light performance and image stabilization. Moreover, instead of a LED flash (like the one in Lumia 920, the new Nokia phone has a more powerful Xenon flash on the back. The device has powerful speakers that offer 140db audio, as compared to HTC One's 89db, which was the highest in the market till now.
The differences you'll notice between 920 and 928 are that the latter is a bit narrower, thinner and lighter, and slightly taller. The Verizon phone looks more traditional, with a tapered backside and only black or white color options, whereas AT&T's model has five color choices and rounded edges. 
Also, the Lumia 928 does have the advantage of Nokia HERE Maps. Nokia's mapping service. Other interesting features include the Internet radio service Nokia Music and City Lens, which lets you look through the phone's camera for nearby points of interest.
Nokia is due to unveil its new Lumia strategy at an event in London next Tuesday.