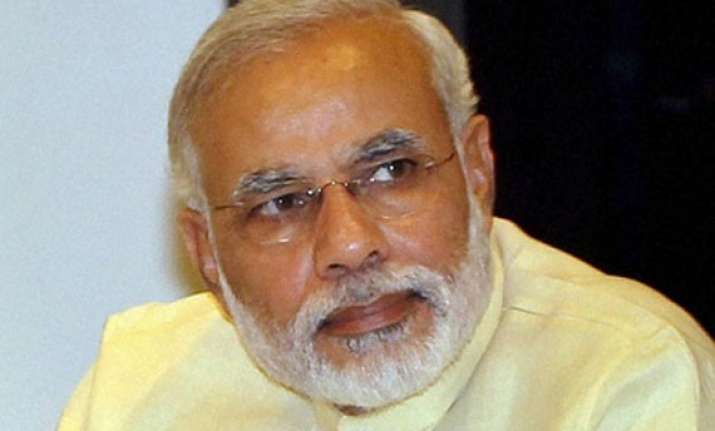 New Delhi: Prime Minister Narendra Modi Thursday recounted a personal anecdote at the function to launch the Pradhan Mantri Jan Dhan Yojana and narrated how officials of Dena Bank chased him to close his account, opened while he was a student.
Modi said officials of Dena bank visited his school to tell students about the importance of saving money. He said an official of the bank "Mr Vora" visited his class and he got an account opened and was presented a piggybank like other students.
"That piggybank did not get a rupee as I did not have (a wealthy) background," Modi said.
Modi referred to his wanderings through the Himalayas for spiritual discovery and other pursuits and said while the bank account stood against his name, he went away.
"They probably searched for me for 20 years to get the account closed," Modi told an amused audience.
Modi said when he came to know that the bank officials were searching for him, he contacted them and got the account closed.
" Then there was an effort to get the bank account closed. Today, we are making efforts to open bank accounts," Modi said.Modi links scheme to women empowerment
"This is such a big right. The right to operate your bank account. This will provide security in life," he said.
Modi also said such saving accounts will also help those women who have to deal with poaching of money by drunkard husbands.
Modi's first event at Vigyan Bhavan as PM Modi received thunderous applause several times during his speech and also brought smiles to the faces of the audience which included some BJP leaders including party general secretary Ram Madhav. It was Modi's first event as prime minister at Vigyan Bhavan, the official venue for several big-ticket government events
Modi, who had sent mails to nearly seven lakh bank officials to motivate them to carry out the task under the Pradhan Mantri Jan Dhan Yojana, also evoked a sense of pride in them. Modi said that they would get the blessings of mothers and sisters whom they were assisting in opening accounts. He said while they would have opened accounts for the rich, this task will get them blessings today.
"It is not a small task. You will get the blessings of lakhs of poor mothers," he said.