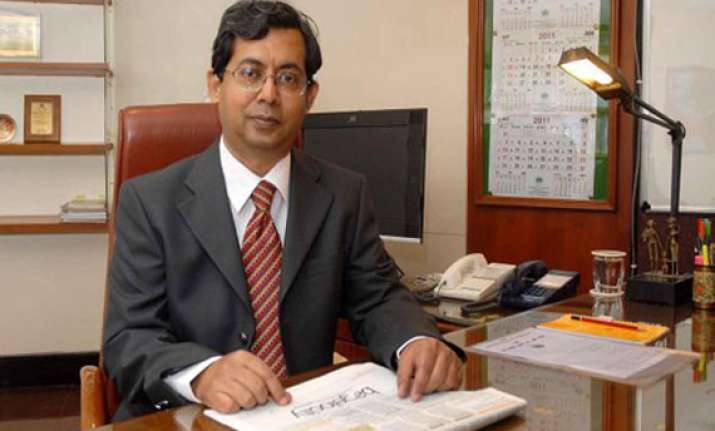 Hyderabad, Aug 5: National Bank for Agriculture and Rural Development (NABARD), the apex development bank in the country, on Sunday asked cooperative banks to focus on opening of a large number of savings accounts under the financial inclusion programme and take on the competition with commercial banks.
"The first and biggest challenge we are having is that several lakh savings accounts have been opened by the banking system in the financial inclusion programme. This is a business loss to us," NABARD chairman Prakash Bakshi said here.
He was speaking at the golden jubilee celebrations of the Andhra Pradesh State Co-operative Bank Ltd (APCOB).
"We need to open a large number of savings accounts in cooperatives also and link them to our core banking solution and this will not only to grow the customer-base but also help in outgrowing the competition," Bakshi said.
The government has said that fertilisers subsidy will go to the bank accounts (under the bank-based direct benefit transfer scheme), Bakshi pointed out.
He asked APCOB to adopt latest advanced technology including internet banking and mobile banking.
"We will have to increase our deposits significantly and work on providing all services which our competitors are providing to our rural clients," Bakshi said while stressing the need to aggressively increase the number of Business Correspondents (BC) in cooperatives vis-a-vis competition.
APCOB president K Veera Reddy said that APCOB was moving ahead for providing RU PAY Cards by providing micro-ATMs and Point of Sale Machines in all Primary Agriculture Cooperative Society (PACS) and District Cooperative Credit Banks (DCCBs) branches and also facilitate implementation of the direct benefit transfer scheme.
Apart from taking many measures for strengthening the DCCBs and PACS in the state, the APCOB has initiated a Technical Consultancy Project wherein RABO International Advisory Services -- a wing of RABO Bank, Netherlands, is providing consultancy for strengthening the cooperative credit structure in the state through a strategy of expanding the product and deposit base, Reddy added.
Earlier, Andhra Pradesh Chief Minister N Kiran Kumar Reddy said the state government will bear Rs 500 crore towards interest this year on the Rs 72,000 crore crop loan to be disbursed.
Appreciating the role of APCOB, he asked other societies on having more commitment to improve the delivery of services to farmers.