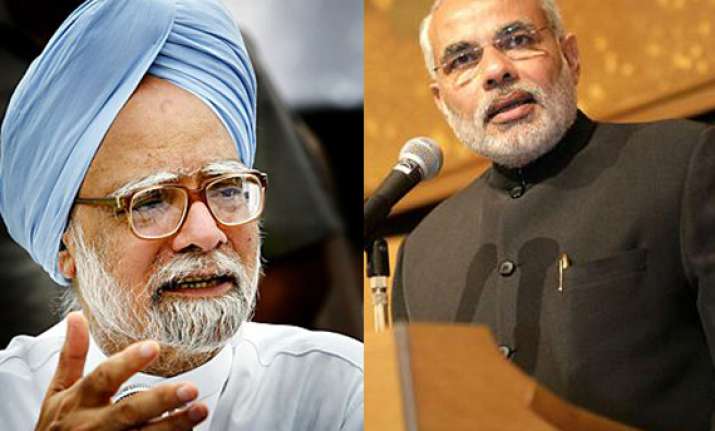 Mumbai, Jun 5: Gujarat Chief Minister Narendra Modi today attacked Prime Minister Manmohan Singh accusing him of failing on the economic front to arrest the decline of Rupee vis-a-vis US Dollar.
Addressing an award function here this evening, he also charged that late Prime Minister Indira Gandhi had announced during a campaign in the North East that if Congress was elected, the administration would be run as per the Bible.
"However, no secularists took objection to this statement," he said.
Modi said India's North East has a rich history of people who fought for the freedom from the British but claimed they were never honoured after the Independence.
"Had their sacrifices been recorded and generations that followed read about them, what would have happened to a particular family for whom history has been changed," Modi alleged without naming the Nehru-Gandhi family.
He alleged Singh had stopped making budgetary provisions for uranium exploration in North East after he had become the Finance Minister in 1991.
"Before 1991, these budgetary provisions used to be made. However, they were stopped after Singh became the Finance Minister. Later, when he became the Prime Minister, he ensured the policies were such that this (uranium exploration) would be done by the USA," Modi alleged. 
Modi said nuclear power was said to be safe and economically-viable and North East was the only place in the country where uranium is available in some quantity.