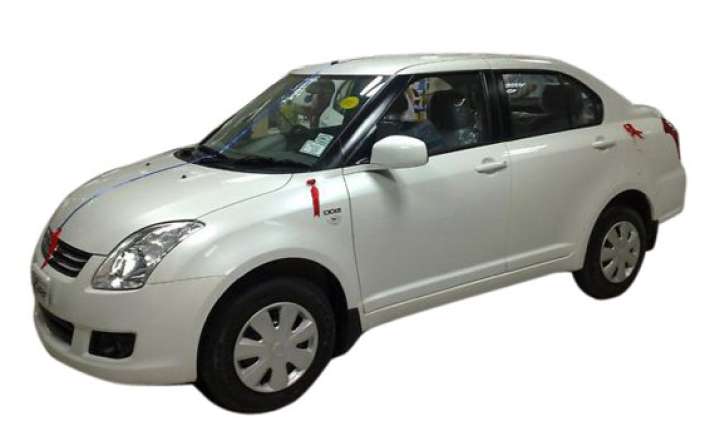 New Delhi, Jan 17: Four years after it launched the entry-level sedan Swift DZire, the country's largest car maker Maruti Suzuki India is bringing a shortened version of the car that will hit the market next month.

Although the model will qualify for the excise duty of 10 per cent enjoyed by small cars, the company said it is unlikely that the new version of DZire will be priced lesser than the existing one, which ranges between Rs 4.94 lakh and Rs 7.29 lakh (ex-showroom Delhi).

"We have invested a lot on the new DZire. It is on a brand new platform. There are at least 150 new features compared to the existing DZire and it is unlikely that the new one will be priced lesser," Maruti Suzuki India Managing Executive Officer (Marketing and Sales) Mayank Pareek said.

He, however, added that the company has not yet finalised the pricing of the new DZire, which will be available in both petrol and diesel options.

While the petrol version will be powered by a 1.2 litre engine, the diesel one will have a 1.3 litre engine. An automatic transmission variant will also be available in the petrol version.

The company and its vendors have invested over Rs 230 crore for the model change, Pareek added.

Asked if the existing DZire would be discontinued once the new version is launched, he said, "There is demand for the existing one and we will continue it for some specific variants for the commercial segment."

According to MSI Chief General Manager (Marketing) Shashank Srivastava, the company will discontinue the mid and top variants of the existing DZire and offer the base model in stripped down version to target fleet segment.

Srivastava said the new DZire will be launched in the first week of next month.

Since its launch in 2008, the DZire has sold over 3.2 lakh units so far. The existing model did not enjoy the excise benefit of 10 per cent on small cars as it is longer than four metres.

The new DZire will be manufactured at the company's Manesar plant. MSI is looking to recover lost ground this year after it was hit by a series of labour unrest at the plant last year.