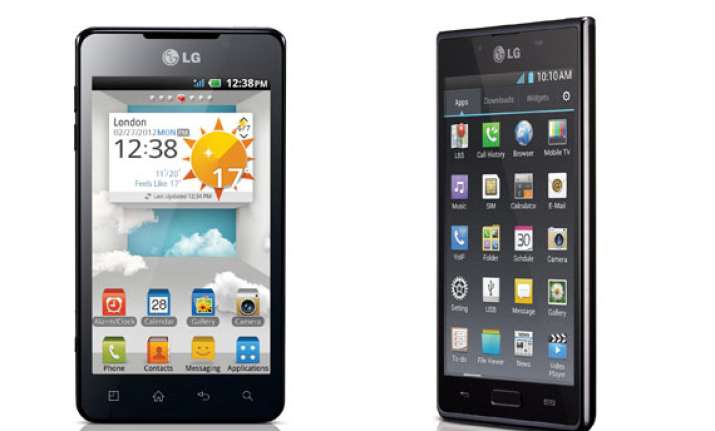 New Delhi, Jun 21: LG Electronics has introduced two new phones in India with the launch of the 3D Max and Optimus L7 smartphones.
LG Optimus 3D Max promises 3D on the go without glasses. It has a 4.3-inch screen with WVGA resolution and NOVA Display. Specs include a tri-dual 1.2Ghz OMAP4430 processor (dual core, dual channel and dual memory), 1GB of RAM, 8GB of internal storage with a microSD card slot, two 5 megapixel cameras, and a 1520mAh battery.
The phone runs on Android 2.3, Gingerbread and is 9.6mm thin.
LG has also customised some of the software to take advantage of the glasses-less 3D capability. The 3D Converter takes 2D content of any available media (videos, pictures, games) and converts them to 3D.
A 3D video editor is also included, allowing users to edit video footage in 3D, and a 3D hot key to allow switch between 2D and 3D views. The LG Optimus 3D Max supprots MHL HDMI and DLNA.
LG also unveiled its new Android 4.0 Ice Cream Sandwich smartphone Optimus L7.
The LG Optimus L7 has a 4.3-inch WVGA (480x800) display and comes with a 5-megapixel camera with LED Flash at the back and a 1.3 megapixel front facing camera.
With 8.7 mm body, the LG Optimus L7 houses a single-core 1 GHz Qualcomm Snapdragon mobile processor. It comes with 1 GB RAM and offers 4 GB onboard storage.
The LG Optimus L7 comes pre-loaded with LG Mobile TV a live TV application. The Optimus L7 is the first device to feature LG's Optimus UI 3.0.
The LG Optimus 3D Max is priced at MOP of Rs 30,500 and the LG Optimus L7 is priced at MOP of Rs 19,900.