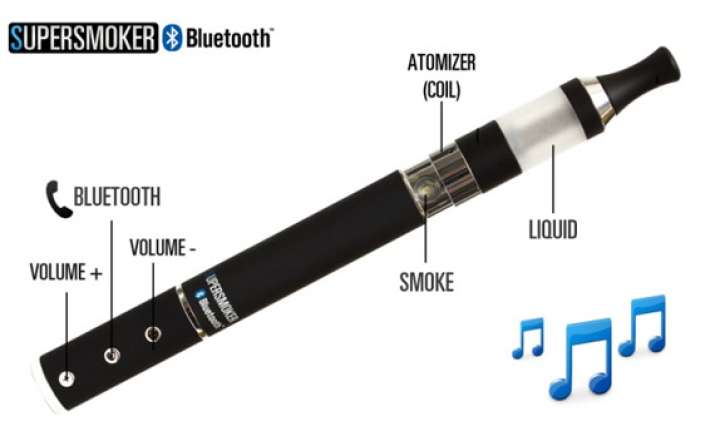 New Delhi: This e-cigarette not only allows smokers to experience nicotine-free puffs but also helps them receive incoming calls or listen to music via Bluetooth!
Called Supersmoker Bluetooth, the e-cigarette has a Bluetooth device embedded in it which makes it all possible to connect with the phone or play music from a favourite list.
E-cigarettes have gained popularity among smokers as they can enjoy smoking without the harmful ingredients of a conventional cigarette.
"We have added technology to our e-cigarette range," said a press release issued by Supersmoker Club, a manufacturer of high-quality electronic cigarettes.
The mechanism of the Supersmoker Bluetooth is apparently simple. Underneath the battery there are three buttons placed. One need to press the middle button for a few seconds to activate the Supersmoker Bluetooth.
Once your phone recognises the Bluetooth, you can make the connection with the phone.
With an incoming call the battery makes a noise and vibrates.
The smoker simply has to press the middle button and he is ready to answer the call via the built-in microphone.
If you wish to listen to music, then choose the track from the playlist and press play. The volume can be easily regulated by using the buttons.
Supersmoker Bluetooth can easily be connected to an Android or iOS device.
E-cigarettes were last featured prominently in the news when Britain in late January said it would ban the sale of electronic cigarettes to children aged under 18, citing possible adverse health effects and outlining a need for further medical research.
E-cigarettes, which are puffed like a regular cigarette but deliver nicotine by vaporising liquid rather than burning tobacco, have grown in popularity and some analysts predict the market could outpace conventional cigarettes within a decade.
"We do not yet know the harm that e-cigarettes can cause to adults let alone to children, but we do know they are not risk- free," England's Chief Medical Officer Sally Davies said in a statement.
The global market for e-cigarettes was estimated at more than $2 billion last year by market consultant Euromonitor.