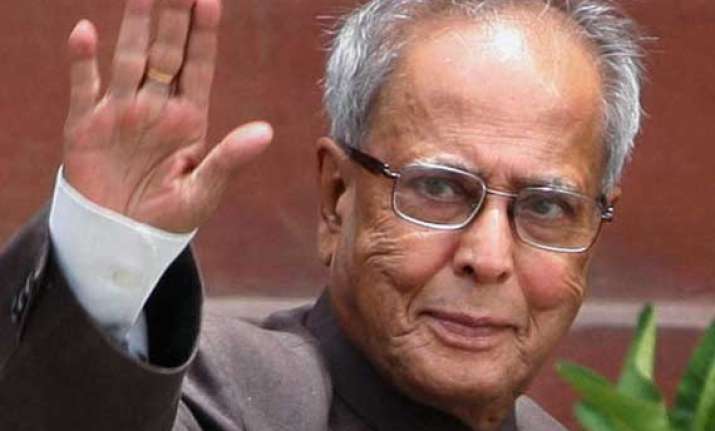 New Delhi: Outlining its agenda for five years, the government today announced a slew of measures to push growth and create jobs, which will include encouraging investment and creating a predictable, transparent and fair environment.
Addressing the first joint sitting of Parliament after the recent Lok Sabha elections, President Pranab Mukherjee said the Narendra Modi government will initiate a series of social, healthcare and infrastructure programmes while asserting that there will be 'zero tolerance' towards terrorism and extremism, besides violence against women.
He said the government will revive 'Brand India', riding on its strengths of five 'T's -- tradition, talent, tourism, trade and technology -- and will pursue foreign policy on the basis of "enlightened nationalism" and mutually beneficial relationships.
"The people of India have given a clear mandate. They want to see a vibrant, dynamic and prosperous India. They want to see a resurgent India regaining the admiration and respect of the international community," Mukherjee said in his 55-minute address.
"Brimming with hope and expectation, they want quick results. With three 'D's of democracy, demography and demand on our side, ... we must rise to the occasion to fulfill these great expectations. In 60 months from now, we should be able to say with confidence and pride that we have done it," he said.
Noting that the country is passing through an "extremely difficult phase" on the economic front, the President said that GDP growth has been less than five per cent, tax collection has declined and inflation continues to be at an "unacceptable" level.
"Thus, putting the Indian economy back on track is paramount for my government. We will work together to usher our economy into high growth path, rein in inflation, reignite the investment cycle, accelerate job creation and restore the confidence of the domestic as well as international community in our economy," he said.
In this context, he said the government will create a policy environment which is "predictable, transparent and fair".
The government, Mukherjee said, will endeavour to "create a policy environment which is predictable, transparent and fair.
"It will embark on rationalisation and simplification of the tax regime to make it non-adversarial and conducive to investment, enterprise and growth," he added.
He said government will move ahead with the rollout of Goods and Services Tax (GST) while addressing the concerns of the states, and undertake more reforms to enhance the ease of doing business.
The President further said that Foreign Direct Investment (FDI) will be encouraged in sectors which "help create jobs and assets".
In order to create jobs, he said, the government will promote labour-intensive manufacturing and endeavour to expand employment opportunities in tourism and agro-based industries.
The government will transform employment exchanges into career centres and also strengthen pension and health insurance safety nets for labour force of all categories, in addition to providing them access to modern financial services, Mukherjee said.
Giving further details of the government's agenda, he said effort will be made to increase public and private investment in the farm infrastructure and convert farming into a profitable venture through scientific practices and agro-technology.
The government "will adopt a national land use policy which will facilitate scientific identification of non- cultivable land and its strategic development", he added.
Here are the highlights:
* Ushering in high growth rate, putting economy back on track
* Contain food inflation
 * Reignite the investment cycle
 * Accelerate job creation
 * Restore investor confidence
 * Create predictable, transparent and fair policy environment
 * Make tax regime non-adversarial
 * Make efforts to introduce GST
 * Undertake reforms to enhance ease of doing business
 * Allow FDI in sectors that will create jobs, assets
 * Emphasis on improving supplies to contain food inflation
 * Steps to prevent hoarding and black marketing
 * Reform of Public Distribution System to be taken
 * Prepare contingency plan to deal with subnormal monsoon
 * Increase investment in agriculture, infrastructure
 * Promote labour-intensive manufacturing
 * Invest in world class industrial regions, particularly along the Dedicated Freight Corridors and Industrial Corridors to be set up
 * Unveil a comprehensive National Energy Policy
 * Reforms in coal sector to attract private investment in transparent manner
 * Expand National Solar Mission
* Operationalise international civil nuclear agreements, develop nuclear power projects.