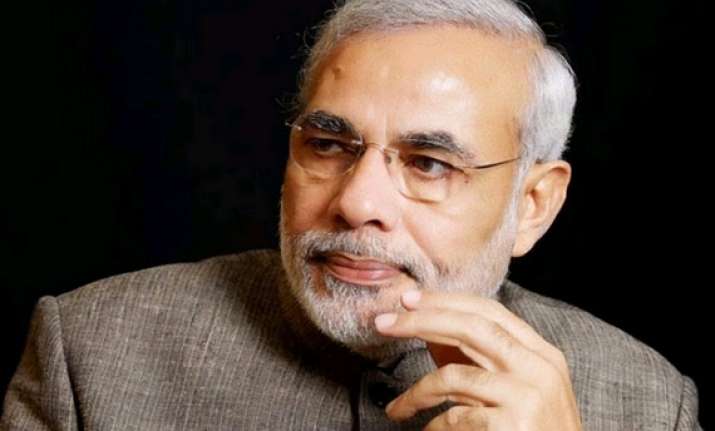 New Delhi: Amid weakening of monsoon and rise in food prices, Prime Minister Narendra Modi today pushed for close coordination between the centre and states on implementing contingency plans and asked states to set up fast-track courts to deal with hoarders and black-marketers. Holding a meeting with Cabinet colleagues to review the progress of monsoon and steps taken to contain inflation, the Prime Minister directed that adequate water, power and seed supply should be ensured to the farmers so that the production is not affected due to scant rainfall.
The meeting was told that the monsoon has been weak but it is likely to "improve substantially" in the next two months and steps taken to contain inflation have shown "positive effect". The Agriculture Ministry has firmed up a contingency plan for more than 500 districts, the meeting was told.
Modi "stressed on the need for both the centre and states to proactively mount a coordinated effort in implementing the advance action plan for the monsoon, with districts, rather than states, being the unit of planning," said a PMO statement issued after over two-hour-long meeting.
Taking stock of the steps being taken to contain inflation, he said states should set up special courts for speedy trial of hoarders and black-marketers. "It was observed that the measures are having a positive effect, with adequate rice stocks reaching markets," the statement said, adding there is now no shortage of onion stocks in Delhi.
With regard to situation of water reservoirs and fodder stock, the Prime Minister directed that maximum possible use be made of the existing water resources, and best practices be applied in rainwater harvesting. He also emphasized on ensuring adequate power and seed availability for the agricultural sector, and directed that NREGA be used to generate rural employment, if necessary.
The meeting was attended by Ministers for Home, Finance, Agriculture, Food and Consumer Affairs and Water Resources besides Cabinet Secretary, Principal Secretary to Prime Minister and Additional Principal Secretary to Prime Minister. IMD officials were also present. The country has received 45 per cent less rainfall in the first spell till June 17.
Met deparment has forecast monsoon to be below normal at 93 percent of the long period average. Rising prices of essential food items like vegetables, fruits and cereals pushed up wholesale price index based inflation to five-month high of 6.01 per cent in May. Price of potatoes and onion have risen to about Rs 25-30 per kg in the national capital.
The rest of the budget session will  be continued by tomorrow. Its said that the budget that is about to bring change tomoroow will be panelized by the experts team.
The team members of the said team will soon be arriving the spot and  will investigate the matter.