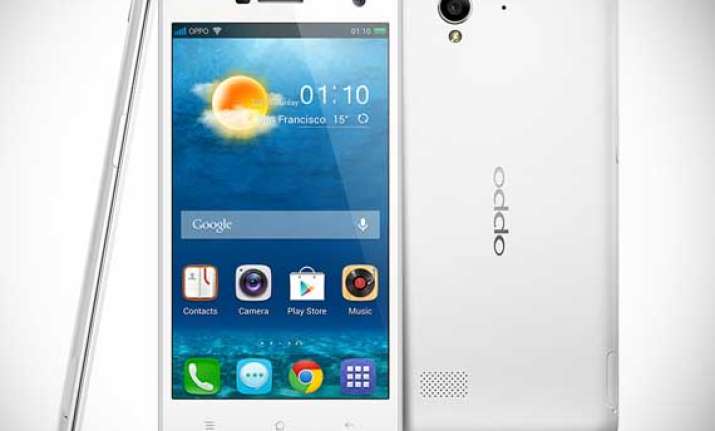 New Delhi: Chinese handset maker Oppo is in talks with Reliance Jio Infocomm and Bharti Airtel for supplying 4G devices in the fiercely competitive Indian smartphone market.
The company, which started operations in the country about six months back, also plans to bring out at least four more devices in the retail market this year.
"Some officials from Reliance Jio were present at the launch. We are in talks with them for 4G devices," Oppo GM (Mobiles Marketing) Steven Shi told PTI.
At present, Oppo's cheapest 4G handset is available for about Rs 12,990 in the Chinese market.
"4G will definitely be our focus in the days ahead," he said.
Currently, Oppo has eight handsets in the market, priced between Rs 8,000 to Rs 40,000. It launched two new devices today -- Find 7 and Find 7a -- priced at Rs 37,990 and Rs 31, 990, respectively.
Find 7, which was launched today, is 4G/LTE compatible and sports a 5.5-inch screen, 2.5 Ghz Snapdragon quad core processor, 3 GB RAM, 3,000 mAh battery, 13 MP rear camera and 5 MP front camera and will be available for sale from next month.
The Find 7a features 2.3 Ghz processor, 2 GB RAM, 16 GB memory (expandable up to 128 GB) and 2,800 mAh battery.
The firm also aggressively plans to expand its retail presence across the country with 5,000 retail points this year from the existing 1,000.
"We are a premium brand and will position ourselves in the Indian market with quality products unlike a lot of other firms. The focus this year is to establish a well-networked retail set-up. We want to expand our presence in over five states within the next 3-6 months," Shi said.
He added that the company aims to be among the top two smartphone players in the Indian market in the next five years in the price category that it plays in.
"We will compete with Samsung... There are players offering low-cost smartphones but that is not our focus. We will focus on the Rs 10,000-40,000 category," Shi said.
Asked about investments, Shi said the company will invest "millions of dollars" but declined to offer specific details.