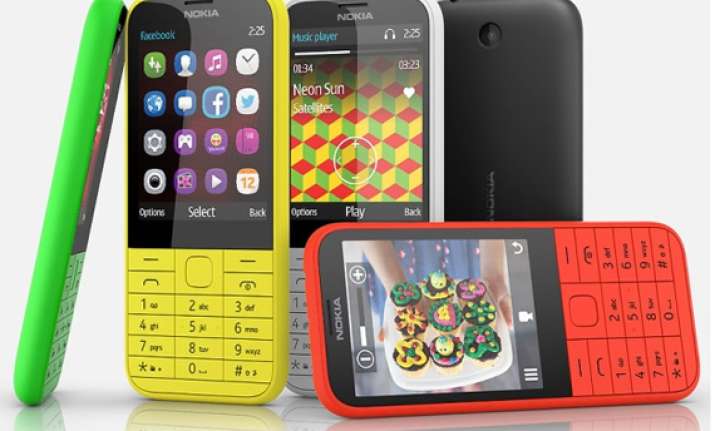 New Delhi: Microsoft Devices has launched its budget feature phone, the Nokia 225, at a best buy price of Rs 3,329. The device underlines the company's commitment to connect the next billion to the Internet.
The new Nokia 225 is a sleek and stylish device that offers affordable internet access through the cloud-powered Nokia Xpress Browser, on a beautifully designed 2.8-inch LCD Transmissive display which offers a QVGA (240x320 pixel) resolution and a pixel density of 142ppi.
"Offering a rich media experience and simple functionality combined with Nokia trust and quality, the Nokia 225 enables us to bring the affordable mobile phone experience to consumers across the spectrum. It is a true testimony of our commitment to connect the next billion to the internet." said Sari Harju, Head of Mobile Phones, Nokia India Sales Pvt. Ltd, a subsidiary of Microsoft Mobile Oy.
The big display of the device is ideal for on the go entertainment including gaming, taking photos, online browsing and downloading and playing video online.
The device comes with a 2 MP camera and comes pre-loaded with Facebook and Twitter apps, or via Nokia's SLAM technology, based on Bluetooth.
The Gameloft store is preloaded on the Nokia 225 with five games ready to play. It also has an FM radio and is MP3 compatible, with a playback time of up to 51 hours.
Connectivity options include Bluetooth, GPRS and Micro-USB. The phones come with expandable storage up to 32GB with the help of a microSD card.
The device features a splash- and dust-proof keymat which is durable and easy to clean. Other features include a digital clock, recorder, calculator, clock, calendar, converter, alarm clock, reminders, phonebook, alarm clock with ringtones, and flashlight.
The Nokia 225 Dual SIM will be available in Black, Red, White, and Yellow colour options.
The Nokia 225 and Nokia 225 dual-SIM offer a 1200mAh battery that is rated to deliver up to 21 hours of talk time, and up to 648 hours of standby time on the dual-SIM variant.
Dimensions
Height: 124mm
Width: 55.5mm
Thickness: 10.4mm
Weight: 100.6g
Main camera: 2MP
Display size: 2.8-inch
Display resolution: QVGA (320 x 240 pixels)
Battery capacity: 1200 mAh
Maximum talk time: (2G): 21 h
Memory            
User data storage: Memory card
Expandable memory card type: MicroSD
Maximum memory card size: 32 GB
Software platform & User Interface
Operating system: Nokia OS
Software release: Series 30+
Photo sharing: Twitter; Facebook; Share over Bluetooth; Photo sharing with Slam
Social apps: Facebook; Twitter
Internet browser capabilities: Nokia Xpress Browser