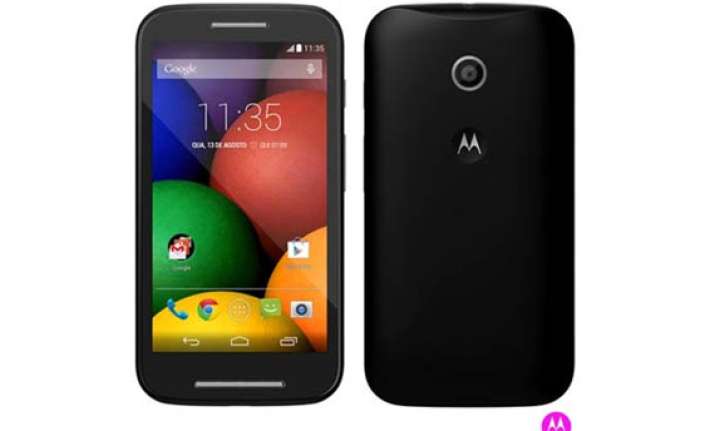 New Delhi: Motorola's budget wonderphone, the Moto E, has been leaked online, ahead of its official unveiling. The leaked image shows the Motor E smartphone to be smaller and wider than the Moto G and looks quite similar to the smartphone in the teaser image put up by Motorola on Flipkart.
The images were leaked by trigger-happy Brazilian retailer FastShop as it posted a full listing for the handset, and if it is true then the Moto E will sit beneath the Moto G as the company's new ultra-budget device.
The Moto E smartphone, as shown in the image, is slightly smaller and wider than Moto G and looks quite similar to the smartphone in the teaser image put up by Motorola on Flipkart. The tagline of the official teaser image reads "Goodbye old phone. Hello new Moto." The teaser mentions that the smartphone will be available only via Flipkart in India.  
Earlier, Zauba.com, an Indian export-import logistical company database, stumbled upon the shipment details of the Motorola Moto E, suggesting the devices have already landed in Bangalore from China, thus confirming its possible launch in Delhi. As per the Zauba's database, each unit has been priced at Rs 6,330. The final price with the inclusion of local tax, could come out to be around Rs 9,000. That means the device would cost less than Rs 10,000.
As per FastShop, the smartphone will have a 4.3-inch screen, with 960x540p resolution, 1.2GHz dual-core processor, 1GB RAM, 5MP camera and 1,980mAh battery. The smartphone will have 4GB internal storage and support for microSD cards, which is missing in both Moto G and Moto X.
Moto E will run on stock version of Android 4.4 (KitKat) and come in single- as well as dual-sim variants. It is likely that the country will get the dual-SIM variant of the model. Motorola Moto E will be available in Black, Turquoise and Lemon color options. Motorola is also including 3 color covers to let you personalize your phone.
Given the overall specs of the smartphone, it remains to be seen whether the company will be able to create the magic it created with Moto G, given that there are lots of good options available in the market from domestic handset makers.