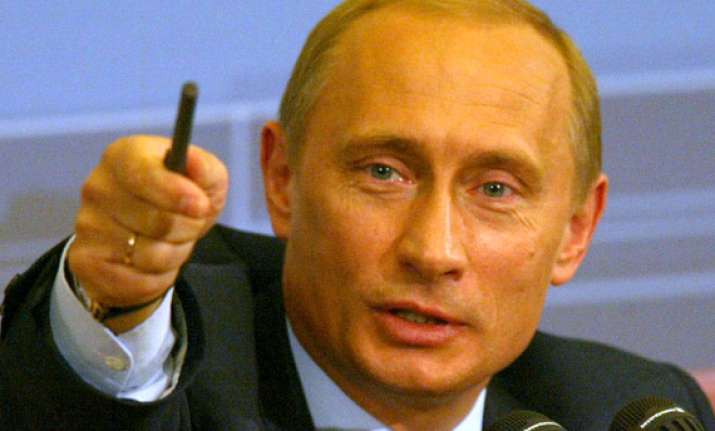 St. Petersburg: Russian President Vladimir Putin today said his country was looking forward to working closely with newly-elected Indian Prime Minister Narendra Modi and promised to work for lifting bilateral ties in economic, military and technical cooperation.
"Our relations are above political parties. We are friendly with the Indian people. We want to have good relations with India, Putin told a select group of journalists from the international media.
"I have met him (Modi). I am going to work with him closely," he said when asked about the Indian election that has thrown up a new government after 10 years.
Asked about Russia's working with the UPA government in the last 10 years and prospects of working with the new BJP-led government, Putin said the bilateral ties are above political parties.
He said India is an "outstanding civilisation" and congratulated the country on the recent successful conduct of the general elections.
Russia is going to make all arrangements for lifting the bilateral relations in economic, humanitarian, military and technical cooperation, he said.
"We have a lot of cooperation in many areas, historically and otherwise. The prospects of cooperation are high. We are doing everything to fulfil this."
Putin thanked India for standing by Russia and not joining the sanctions imposed by the western countries on the Ukraine issue.
He said he confirmed this when he talked to outgoing Prime Minister Manmohan Singh and to the new leader (Modi).  The US and EU have imposed a series of sanctions on Russia, including visa bans and asset freezes, over its annexation of Crimea -  an autonomous peninsula within Ukraine with a Russian ethnic majority - in March and alleged support for pro-Russian rebels who have seized control of parts of eastern Ukraine.
Putin said Russia was thankful to the Indian leaders and the people for their well-considered position on the Ukraine crisis.
He said Indian leaders saw the problem and considered all its components in an historical perspective and with a deep analysis of Russia-India relations.
"We are grateful to them for this," he said, adding that sanctions are only counter-productive.  Putin also referred to remarks made by Indian participants in the St. Petersburg International Economic Forum yesterday and said potential between India and Russia in economy has not been fully tapped.