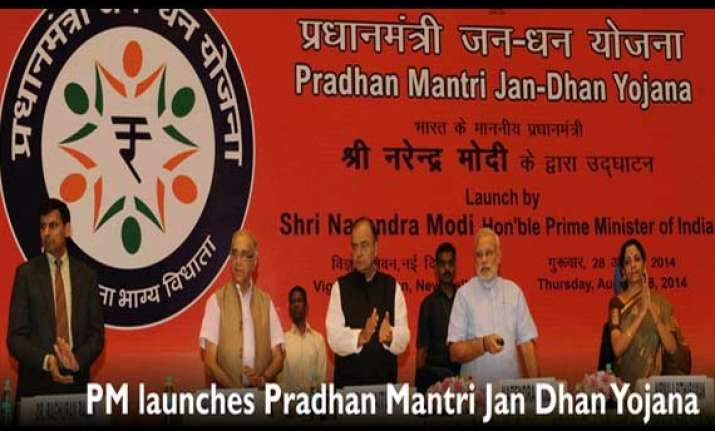 New Delhi: The Finance Ministry has asked the state-owned Life Insurance Corporation to submit details on structuring the Rs 30,000-life cover to be offered under the scheme Jan Dhan Yojana, unveiled by Prime Minister Narendra Modi on August 28.
"We have received a communication from the Finance Ministry asking us to propose how to structure the Rs 30,000 -life cover being provided along with the new accounts being opened under the scheme to all eligible beneficiaries. We are already on the job," a senior LIC official, who did not want to be named, told PTI.
Another official from the behemoth said financial services secretary G S Sandhu has called for a meeting in the Capital on Monday to discuss the modalities.
 
"A senior level meeting has been convened by the financial services secretary Monday morning to decide who will pay the premium for providing the life insurance policy and other modalities," the official, who also wished not to be named, told this agency.  
LIC hopes to provide life insurance cover to around 3 crore people under the Prime Minister Jan Dhan Yojana through which the government plans to bring in 7.5 crore households under the banking system by August 2018. However, on the opening day last Thursday itself various banks opened a whopping 1.5 crore accounts, or more than 50% of what they planned.
 
"Even though the government is targeting to open 7.5 crore bank accounts under the scheme that was kick started on August 28, the life policy is likely to be issued to only around 2-3 crore people due to the riders in the scheme," said the LIC official cited first.
 
According to the scheme, only those who are above 18 and below 59 will be eligible for the life cover. Secondly, though the accounts are not mandatorily linked to the Aadhaar numbers, the life cover is strictly open for only those who have the Aadhaar numbers to avoid duplication, the official explained.
The Rs 30,000 life cover premium is likely to be somewhere between Rs 90 and Rs 100. The policy will come in the form of one-year renewable term policy which will be valid life-long, which means that premium has to be paid annually till the insurer's death, he said.
 
The personal accident cover premium will be paid by the RBI-promoted National Payment Corporation, which is the nodal agency for the inclusion drive.