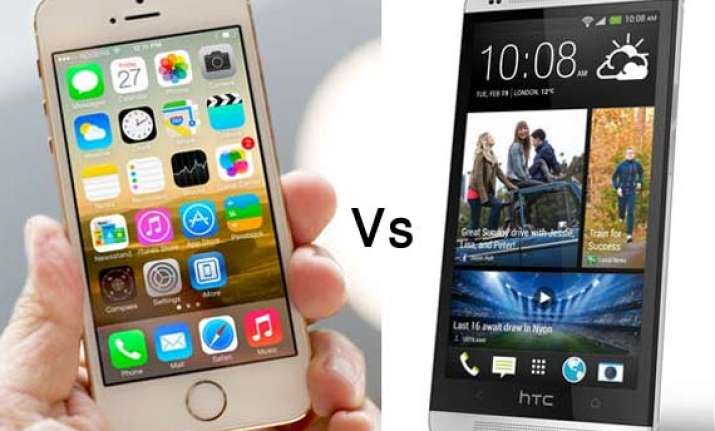 New Delhi: Unarguably, HTC One and iPhone 5S are among the best of the lot when it comes to high-end smartphones. Both make liberal use of metal and feel great in the hand. While HTC is extreme on the outside – big screen, big camera pixels, big sound, Apple's iPhone 5S is extreme on the inside – 64-bit processor, amazing image signal processor, huge range of LTE support.
The HTC One is a great smartphone that comes with premium construction, powerful processor and intelligently designed speakers and a gorgeous 1080p screen which gives excellent colors and viewing angels. It offers speedy performance, completely lag-free interface and an attractive, streamlined Sense user interface. Its "UltraPixel" camera performs really well in low light. The HTC One comes with the Beats Audio meaning you'll hear the best sound output quality in the market. The audio output is well balanced and the phone performs really well at high volumes. It runs Android 4.2.2 with HTC's Sense 5.0 interface on top.
And much like the HTC One, the iPhone 5S is clad in aluminum, giving it a nice hefty feel. Apple has maintained the same hardened glass front and aluminum chassis, but now it is offering two new colors — space gray and gold. The iPhone 5S comes with 4-inch Retina display with full sRGB standard and widescreen video. It delivers 640 x 1,136 resolution, rated at 326ppi. Though the iPhone 5S' camera retains the 8-megapixel count of the iPhone 5, it is now capable of capturing 120 frames-per-second slow-motion video and 10 frames-per-second burst photography. Driven by the A7 chip, the camera snaps photos and videos faster for cleaner, more detailed, and more vibrant shots. Under the hood, the iPhone 5S' advancements are far more significant. Apple has laid claim to producing the world's first 64-bit smartphone processor with the new A7 system-on-a-chip (SOC).
Let us do a detailed comparison of both the smartphones:
Size
The One is much larger than iPhone 5S, but it is still comfortable to hold. The One measures about 11 per cent taller, 15 per cent wider, and 18 per cent thicker than the iPhone 5S.


Winner: HTC One