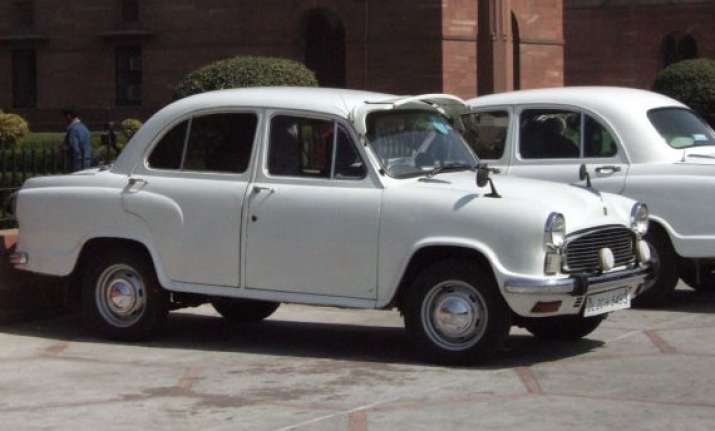 New Delhi: Nearly, seven decades after the first Ambassador rolled out, Hindustan Motors has suspended production of the iconic vehicle, citing lack of demand and the growing debt.
The company informed the Bombay Stock Exchange, citing "very low productivity, growing indiscipline, critical shortage of funds, lack of demand for its core product ... and large accumulation of liabilities".
"The company's best efforts to revive the unit have failed. Given the circumstances, it has no alternative but to declare suspension of work at the plant with effect from May 24, 2014," a spokesperson from the CK Birla Group company said in a statement on Saturday.
Modeled on British Morris Oxford III, the Ambassador was the first car to be made in India, and once held huge share in India's passenger vehicles market of the '70s and early '80s but lost its lead when companies like Maruti Suzuki, Hyundai and Ford came to India, relegating it to a mere 'sarkari' (government) vehicle.
The design of Ambassador, easily the most recognisable car on India's roads, has not changed in nearly sixty years. Though still used as a taxi in some Indian cities, the Ambassador has long been a preferred choice of a dwindling share of bureaucrats and politicians, usually in white with a red beacon on top and a chauffeur at the wheel. Though it is still the official vehicle for some of the country's elite, including the Army chief and Congress president Sonia Gandhi, a lot of politicians have moved on to SUVs and sedans from the likes of Mercedes Benz, Audi and BMW.
From a high of 24,000 units a year in the mid-1980s to under 12,000 a decade later, Hindustan Motors was able to sell about 2,200 Ambassadors in the fiscal year ended in March 2014, a tiny share of the 1.8 million passenger cars sold during the year in India, according to industry data.
In the final days of the Uttarpara plant, the 2,600-odd workers were manufacturing just five cars a day; while Maruti Suzuki manufactures 5,000 vehicles daily.
Industry watchers say chances of revival of the "grand old lady" of the Indian car market are slim.
it would be difficult for the "grand old lady" of the Indian car market to make a comeback. HM has been referred to the Board for Industrial and Financial Reconstruction (BIFR) which is meant for sick units.
"Efforts to find strategic investors have not materialized and the company faces a critical shortage of funds. The company's efforts are falling short of the large liabilities that have been accumulated," the statement issued by HM.