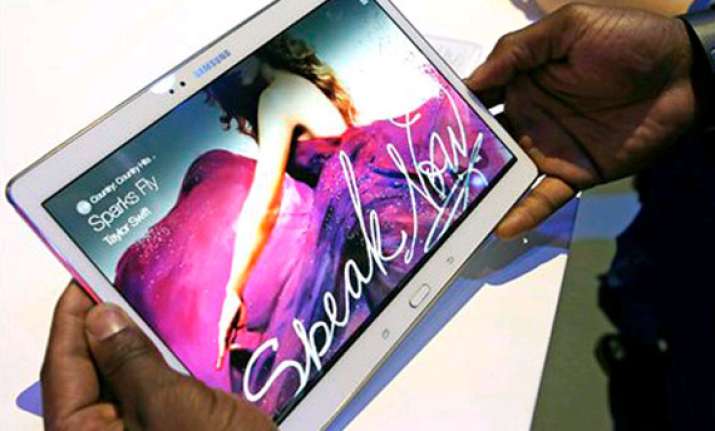 New Delhi: Despite the growing popularity of phablets and the lack of demand, handset maker Samsung is going aggressive on the tablet market in India. The company has launched two latest tablets — Galaxy Tab S 10.5 and 8.4 — in the Indian market at Rs 37,800 and Rs 44,800, respectively. . The Wi-FiƱG versions of the two tablets will be available starting second week of July.
The Galaxy Tab S marks Samsung's return to using AMOLED displays on a tablet, after using them in the Galaxy Tab 7.7 back in 2011. The tablets features a super thin profile and are aimed at users who want who consume lots of video and other multimedia content.  
"We noticed that most tablet users, especially in India, use their devices primarily for consuming video. This tablet will cater primarily for those users... the Samsung Galaxy Tab S offers the most immersive visual experience possible on a tablet," said Asim Warsi, VP, Mobile & IT at Samsung India.  
Design-wise, the Galaxy Tab S lineup offers an impressive design that is sleek and impressive yet minimalist. The two devices sports extremely thin bodies (6.6mm on both 8.4-inch and 10.5-inch models) making the Galaxy Tab S one of the best-looking tablet series around. The setup is also quite similar. A major chunk of the front is occupied by the screen and Samsung's traditional three-button layout with home, recent apps, and back keys. The back comes with familiar dot pattern – as seen in the Samsung Galaxy S5 – giving the tablets a firm grip in the hands.