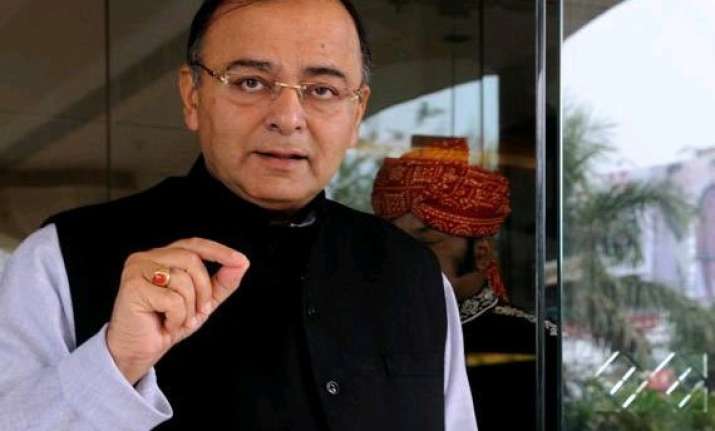 New Delhi: Encouraged by marked improvement in the GDP numbers, Finance Minister Arun Jaitley today said growth rate would accelerate further on back of improvement in investor confidence and moderation in inflation.
With government taking quick decisions to relax FDI norms and push infrastructure investment, he said the manufacturing curve has turned and services sector is looking up.
"All I can say is the government is very clear whether it is social sector schemes, or other significant decisions, surely we will be moving in right direction. I am optimistic that as more and more decisions in this direction comes, we will be able to help the economy to grow a little faster," Jaitley said, while addressing his first press conference to mark 100 days of the NDA government in office.
Reflecting improvement in the economy, the GDP growth rate in the April-June quarter of 2014-15 improved to 5.7 per cent, the highest in nearly two-and-half years. The GDP growth rate remained sub-five per cent in the last two consecutive fiscals.
"In the first quarter (April-June), a 5.7 per cent growth rate is encouraging. With the long-term impact of all the new initiatives setting in, I am sure the impact in the coming quarters will be much larger," he said.
Listing decisions taken in first three months in office, Jaitley said FDI restrictions in defence and railways have been eased, decision making hastened, special mechanism created to resolve tax dispute and steps taken to increase investment in manufacturing and infrastructure.
"The new government was clear about the direction in which it was to move. We wanted to expand economic activity, hasten decision making, easing doing business in country, open up significant sectors, expedite decision making, while maintaining the social sector expenditures in most areas," he added.
On future agenda, the Minister said the government would soon roll out disinvestment plan, push Goods and Services Tax (GST) and try to get the insurance bill through in the ensuing Winter Session of Parliament.
"As we started working in the administration of the new land acquisition law, the states and the centre are realising the challenges. I will discuss this with major political parties," he added.
He said he would discuss with the rural development minister if there could be "more flexibility".
"When I say more flexibility, I mean slight enlargement of the exemption," he said.
He added that the government is very clear whether social sector schemes are moving in the right direction.