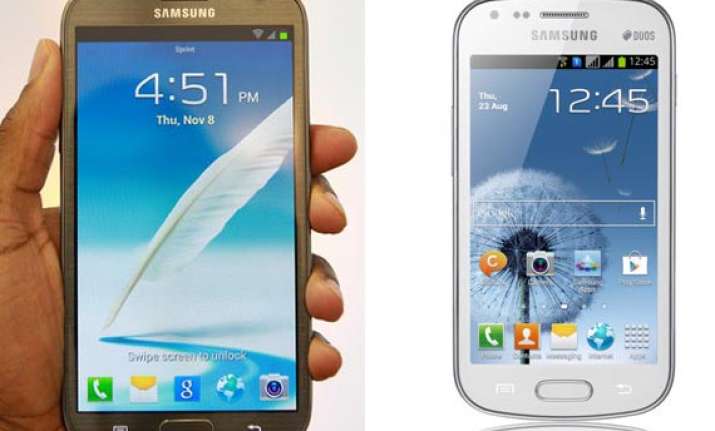 New Delhi: It is clear at this point in time that Android is the dominating smartphone platform and that Samsung is probably the leading Android OEM. The latest IDC report showed Samsung strengthened its Smartphone market in India by scaling up its market share to 32.9 per cent in third quarter as compared to 26 per cent in the second quarter of 2013.
Samsung's popularity could be gauged from the fact that the company claimed the top spot in the Campaign Asia-Pacific 2013 Asia's Top 1000 Brands report, the biggest and most influential survey of the brands that consumers most value in the region.
Similarly, latest Voice & Data survey revealed that South Korean handset maker Samsung Electronics dethroned its Finnish counterpart Nokia as India's largest mobile phone maker in the last fiscal year by cornering 31.5 per cent market share compared with 27.2 per cent for the latter. It was largely due to the company's extensive portfolio, which offers a range of handsets across price points and screen sizes gave it the edge over Nokia.
"Samsung handset prices range from Rs 1,500 to Rs 50,000 and come in varied screen sizes. These two factors helped the company grab customer's attention, besides the product quality and new features," Voice & Data said in its survey of 30 handset makers. 
Let us take a look at some of the company's top smartphones:
1. Samsung Galaxy Note 3Features
13 MP Primary Camera with Auto Focus and BSI Sensor    
2 MP Secondary Camera with Smart Stabilization and BSI Sensor    
NFC Support    
Full HD (1080p) Recording and Playback Support    
5.7-inch Full HD Super AMOLED (1920 x 1080) Display    
Samsung Smart Scroll and Samsung Smart Pause    
Octa Core Processor (1.9 GHz Quad + 1.3 GHz Quad) and 3 GB RAM    
Air Gesture and Air View    
Android v4.3 (Jelly Bean) OS    
S Pen Optimized Features: Air Command; Action Memo; Scrapbook; S Finder; Pen Window; Multi Window; Direct Pen Input    
Dual Camera: Dual Shot / Dual Recording / Dual Video Call
Price:  Rs. 46899 (as on Flipkart)