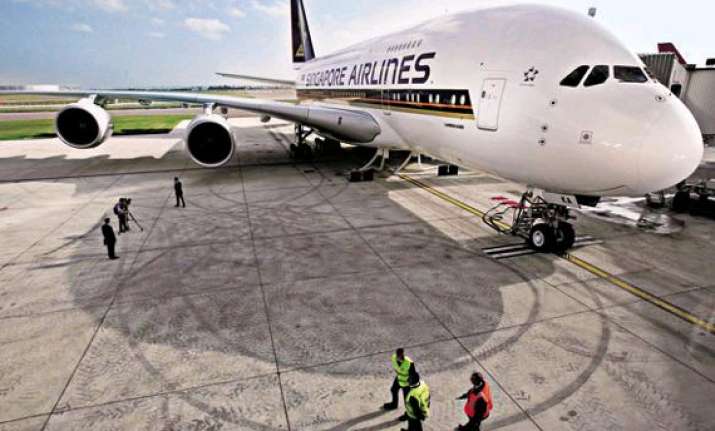 Mumbai: Tata-Singapore Airlines joint venture, which is working on to launch a full-service carrier in the third quarter of the fiscal, is in advanced stage of discussions with aircraft maintenance services provider, Air Works for servicing its fleet.
National carrier Air India and MAS-GMR Aerospace Engineering are also eyeing the contract, according to sources.
"The joint venture (Tata-SIA) is in advanced stages of negotiations with AirWorks for maintenance of its Airbus fleet," industry sources told a news agency here on condition of anonymity.
Though other services providers, like Air India and MAS-GMR MRO, are also actively pursuing the deal, the contract is most likely to go Air Works, they said.
Tata-SIA is a 51-49 joint venture between the salt-to-software domestic conglomerate Tata Group and Singapore Airlines.
When contacted, a Tata-SIA spokesperson admitted that it was in discussions with some service providers and said nothing has been finalised as of yet.
"Tata-SIA does not comment on any commercial tie-ups contemplated. Negotiations are on with services providers. Nothing has been finalised," a Tata-SIA spokesperson said in a text message.
Air Works officials were not available for comments. The Tata-SIA Airlines plans to fly from Delhi to Mumbai, Goa, Patna, Chandigarh, Srinagar, Hyderabad and Bengaluru in its first year of operations, according to its application for a flying licence filed with the Director General of Civil Aviation.
Its plans to operate 87 flights in the first year, with five leased Airbus A-320s, and scale it up to 301 by the fourth year. Initially, the carrier plans to operate two flights a day to Mumbai, with one of them going to Goa. The initial phase would also see two flights a day each to Bangalore, Ahmedabad and Hyderabad.
Besides the major metros, the proposed airline would also connect Srinagar, Patna, Chandigarh and Jammu.
Under its aggressive expansion plans, it also proposes to add destinations like Chennai, Pune, Lucknow, Varanasi, Jaipur, Kolkata, Amritsar, Bagdogra, Indore and Kochi within the first four years of operations.