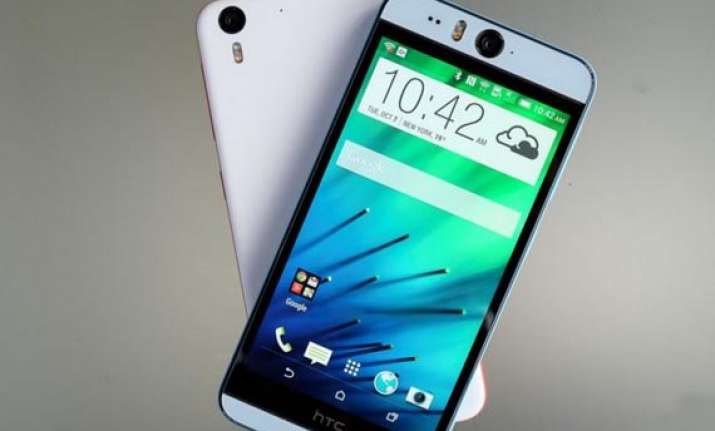 New Delhi: Hoping to capitalize on the ever rising selfie craze, HTC has launched the Desire EYE, that has a 13 MP rear camera, as well as a 13 MP front-facing camera, each with its own dual LED flash set-up.
It will be available from AT&T later this year at a price that's yet to be determined.
The 13-megapixel front camera on HTC Desire Eye has the highest resolution front-facing camera to date and features autofocus, a dual
LED flash on both the front and back of the phone, and 1080p video recording @ 30fps. While the rear camera features a f/2.0 aperture
and a 28mm lens, the front-facing camera comes with a f/2.2 aperture with a 20mm lens.
To take advantage of the Eye's front camera, there's a mode to take a picture with both the front and rear cameras at the same time,
FrontBack, or asynchronously, and the results are pretty fun and good to share. There is a mode that lets you insert yourself into a scene
using both cameras.  Users can also merge their face with another person's face to create a mutant selfie.
The Desire Eye is also offering the ability to video chat with four people all looking at the same phone, and the device can work out who's
there and give each their own frame.
The camera app also offers a new automatic mode will snap a selfie once the phone is held still and your face is in the right place.
HTC says all of these camera features, called the "Eye Experience", will come to the HTC One (M7), HTC One (M8), HTC One E8, HTC One
mini, HTC One mini 2, HTC One max, HTC Desire 816, HTC Desire 820, and HTC Butterfly 2 in the coming months, as well.
The rest of the Eye's software offers the same experience as the M8: it runs Android 4.4 KitKat with HTC's Sense 6.0 interface.
Other specifications include a 5.2-inch full-HD LCD display; Qualcomm Snapdragon 801 processor; 2GB of RAM; 16GB of inbuilt storage
expandable via microSD card (upto 128GB), and a 2400mAh Li-Po battery.
Front-facing stereo speakers powered by HTC Boomsound technology are also onboard the handset. It measures in at
151.7x73.8x8.5mm.
The device comes in two color options — a white and red and a two-tone blue.