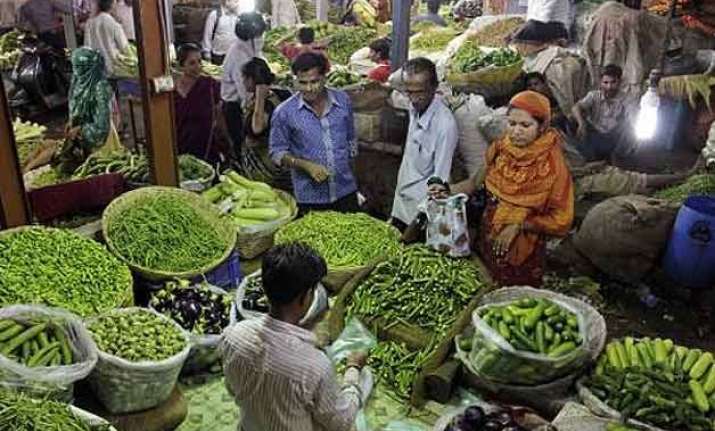 New Delhi:  Retail inflation surged to eight month high of 5.4 per cent in June mainly due to costlier food items limiting the room for RBI to cut rates next month.  The retail inflation measured on Consumer Price Index (CPI) was at 5.01 per cent in May. It was at 6.77 per cent in June last year.
The rise in inflation, a key factor considered by the RBI in deciding the bi-monthly monetary policy, comes in the backdrop of slowdown in factory output.  The Index of Industrial Index (IIP) in May slowed to 2.7 per cent from 5.6 per cent year ago leading to demands of rate cut from the RBI in its next policy review on August 4.  
As per the data released by the Statistics Office (CSO) today, prices of pulses rose by 22.24 per cent in June year-on-year.
The overall food inflation increased to 5.48 per cent in June from 4.8 per cent in the previous month. The retail food inflation was however 7.21 per cent in June 2014.  Finance Secretary Rajiv Mehrishi said that the rise in June retail inflation is not "significant" and expected it to come down on the back of better monsoon.  
He further said the structural inflation remains under control and the upward movement in prices of agricultural items is a "blip".
The inflation for fruit and vegetables was 3.51 per cent and 5.37 per cent, respectively, in the month under review.  Among others, milk and its products were costlier by 7.18 per cent in June over the same month last year.  
CSO data also showed that prices of protein-rich items like meat and fish rose by 6.99 per cent, while spices turned costlier by 9.71 per cent in the month.  Commenting on the data, Economist with ICRA Aditi Nayar said while the hardening in vegetable prices is largely seasonal, the sharp increase in prices of protein items poses a larger concern.
Prices of prepared snacks and meals rose by 7.84 per cent, clothing and footwear category by 6.34 per cent, housing by 4.48 per cent and fuel and light by 5.92 per cent.  Among other categories, oils and fats prices rose by 3.06 per cent, cereals and products by 1.98 per cent, while that of egg rose by 5.09 per cent in June.
The prices of sugar and confectionery items fell by 8.55 per cent in June compared to same month last year.