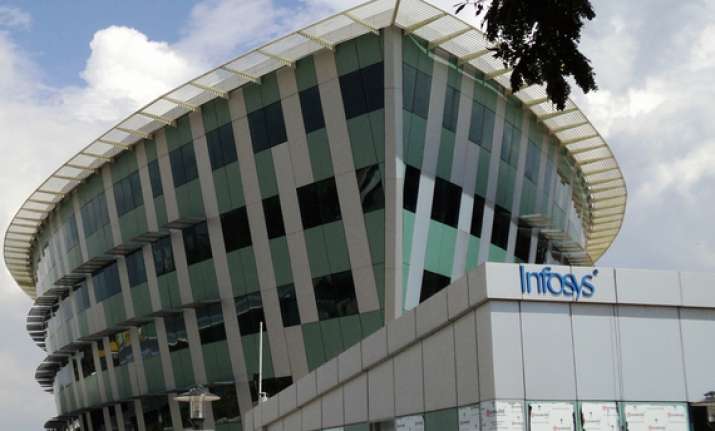 Bangalore: Infosys, India's second largest software services exporter, on Friday reported lower than expected 1.6 per cent rise in September quarter net profit, but raised the low-end of its sales forecast for the full fiscal.
Consolidated net profit rose 1.6 per cent to Rs 2,407 crore in July-September this fiscal from Rs 2,396 crore a year ago on a charge related to visa use in the US, Infosys said in a statement.
The city-headquartered firm raised the lower-end of its revenue forecast for the 2013-14 fiscal to 9-10 per cent from previously projected 6-10 per cent. It also revised its rupee revenue guidance upwards to 21-22 per cent from 13-17 per cent earlier for the same period.
Infosys, which has been under investigation in the US over the past use of temporary employment visas, said it has made a provision of about Rs 219 crore in the matter.
July-September is the first full quarter since co-founder N R Narayana Murthy came out of retirement to become executive chairman as Infosys posted almost two years of disappointing earnings.
Reacting to the results, shares of Infosys' – once considered an IT industry bellwether --  jumped 7.54 per cent to Rs 3,360, its 52-week high on the BSE.
Commenting of the performance, Infosys CEO and Managing Director S D Shibulal said: The growth in second quarter was broad-based and the net client additions (37) was among the highest in the company's history, which included five of the Fortune 500 companies."
In dollar terms, however, the NYSE-listed firm's profits fell 11.1 per cent to $383 million in September quarter of this fiscal from $431 million in the year-ago period. Its revenues rose by 15 per cent to $2.07 billion from $1.80 billion during the review period.
Infosys CFO Rajiv Bansal said: "The impact of 300 basis points on margins due to wage hikes was to an extent met by rupee depreciation helping margins by 250 basis points."
On deals, Shibulal said: "We closed five-six large deals, which are mostly $50 million and over and its effects will get realised over the next three-five years."
Infosys's million dollar clients rose to 459 in the September quarter. Majority of deals (13 clients) came from North America as discretionary spending saw an uptick.
During July-September quarter, Infosys added 68 clients (net 37 clients) taking the total count to 873 with most of the additions coming from $10 million and less bracket.
Products and Platforms business secured 15 wins in the second quarter, besides, 18 wins by Finacle across South Asia, Southeast Asia, Middle East, Europe and Australia-New Zealand.
On revenue guidance, Shibulal said: "Our guidance is 9-10 per cent (9.9-10.9 per cent in constant currency). We are doing a lot of changes internally to make sure that we achieve our aspirational financial growth, which is higher growth and higher margins but these things take time to realise.
"They cannot be done overnight, there are no silver bullets and there are changes being made which will take time to realise and because of that we need to remain cautious."
Meanwhile, Infosys said it has been under investigation in the US, which accounts for a major chunk of its revenues, over the past use of temporary employment visas.
It is engaged in discussions with Attorney's office and other government departments regarding a civil resolution of the government's investigation into its compliance with Form I-9 requirements and past use of B-1 visas, it said.
"Based on the status of those discussions, Infosys has set aside a reserve of $35 million, including legal costs. Because the discussions are ongoing, Infosys cannot provide additional details at this time," it said in a statement.
Going ahead, Shibulal said:" Q3 and Q4 are generally weak quarters due to holidays and furloughs. Besides, we are seeing some weakness in the retail and consumer price goods.
There will also be some impact of the US government shutdown."
Globally, the US market is responding positively and Europe is showing signs of revival. Financial Services are good and spending is up in Big Data, Cloud and Analytics, he added.