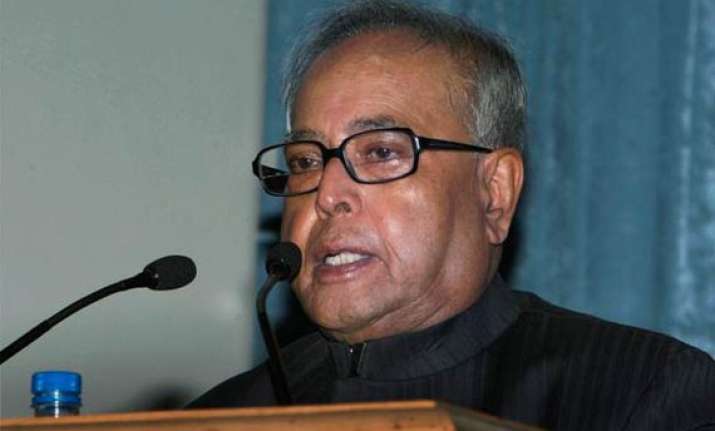 Bangalore, Dec 18: Finance Minister Pranab Mukherjee today said headline inflation in the country remains "perilously close" to double digits but is expected to moderate to 6-7 per cent by March if the present declining trend continues.

"So far as inflation is concerned, yes, I do agree headline inflation is still high, perilously close to double-digit inflation," Mukherjee said at a press conference here today after meeting with the chief ministers of southern states and the CEOs of public sector banks based in the South.

"I do hope if this trend continues, then the year-end inflation... by March will be 6-7 per cent," he said.

However, he highlighted that though overall inflation is high in the manufacturing sector, fuel and certain other commodities, food inflation has come down.

Food inflation fell sharply to a four-year low of 4.35 per cent in the week ended December 3 from 6.6 per cent in the previous week, while headline inflation moderated to 9.1 per cent in November from 9.7 per cent in the previous month.

Talking about the global slowdown, Mukherjee said, "It's true that we are going through difficult times, not only in India, but also all over the world."

As per the latest assessment, there is no possibility of a recovery in the euro zone—comprising 28 countries of the European Union—till the third quarter of the next calendar year (2012), he said.

Mukherjee said as per another assessment, there has been slow recovery in the US economy, but "how long it will continue and how far it is, is yet to be seen".

"The same is the story with Japan," he said, adding that the growth rate in many emerging economies has come down and the rate of inflation is also high in these countries.

"In that context, we are also facing problems," Mukherjee said.

To a query on the UID project, Mukherjee said, "As far as I understand, the enrollment (for Aadhaar numbers) is taking (place) very fast. About a million will be enrolled per day". 

He said the "current mandate" is to give Aadhaar numbers to 20 crore people. "But it will take some more time".

Responding to another question, Mukherjee said he was not unduly worried over the non-performing assets of India's public sector banks.