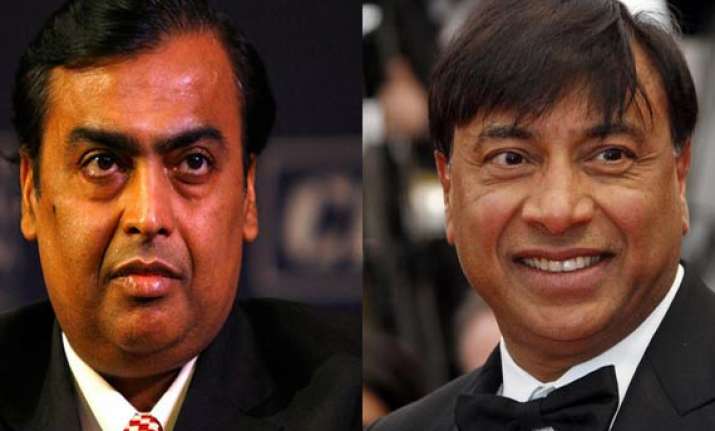 New Delhi: With a networth of $21 billion, Reliance Industries (RIL)' Mukesh Ambani has retained his title as India's richest for sixth year in a row, while the country's 100 richest persons saw their collective wealth soar by a modest 3 per cent in a year, according to Forbes wealth list.
NRI steel tycoon Lakshmi Mittal ($16 billion) also continues to hold the second position, while Sun Pharmaceuticals Industries' Dilip Shanghvi has jumped to third place with about 50 per cent surge in his wealth to $13.9 billion, pushing Wipro's Azim Premji to fourth place ($13.8 billion).
As per US-based business magazine Forbes' annual list of India's 100 richest,  their total wealth grew by a modest 3 per cent from a year ago to $259 billion.
"Growth in wealth was lacklustre due to India's stumbling economy, which has been hit by inflation and a falling rupee," Forbes rich list showed.
Amid the sluggishness, Reliance Industries chief Mukesh Ambani and ArcelorMittal's Lakshmi Mittal saw no change in their respective networths, but pharmaceutical industry titan Dilip Shanghvi managed to buck the trend with a surge of $4.7 billion in his wealth to $13.9 billion.
Azim Premji's wealth also rose by $1.6 billion, but he could not retain his third slot.
Pallonji Mistry, patriarch of construction giant Shapoorji Pallonji Group which is the biggest shareholder in Tata Sons, has moved down one place to fifth rank with a networth of $12.5 billion. His younger son Cyrus Mistry last year succeeded Ratan Tata as new Tata group head.
NRI businessmen Hinduja brothers have moved up to sixth place ($9 billion), from their 9th position last year.
Shiv Nadar ($8.6 billion) have moved into top-ten at the 7th place, while Sunil Mittal has also returned to this league at 10th place ($6.6 billion). On the other hand, Essar group's Ruia brothers and Jindal group's Savitri Jindal have moved out from the group.
Adi Godrej has slipped two places to 8th rank ($8.3 billion), while Aditya Birla group Chairman Kumar Mangalam Birla has gained one position to 9th ($7.6 billion).
Anil Ambani has also retained his 11th rank, although his wealth rose to $6.2 billion, from $6 billion a year ago.
Here is the complete list:
20. Bajaj Family

Net Worth: $3.1 B

Source of Wealth: Motorcycles, inherited and growing

Residence: Pune, India

Country of Citizenship: India